Posted on
Thu, Mar 18, 2010 : 8 a.m.
A look at board games that don't need to apologize for their faults
By Mike Hulsebus
Hello and welcome to the new board and card game review column for AnnArbor.com, Critical Hits. I plan to spend my first few columns discussing some mediocre games that most people have played and suggest some alternative games that are similar yet more fun. Let's start with the game whose very title is an apology for how mediocre it is: Sorry.
Mike Hulsebus | Contributor
To be fair, Sorry is a very well designed game for what it is. For those who don't remember, players move their four pawns around the board by flipping over cards from a deck with numbers on them showing how many spaces they get to move. If a player flips over a "Sorry" card, he may take a pawn from his start location and knock an opponent's piece all the way back to that opponent's start position.
The beauty of the game is that many games end up very close due to a "rubber banding" mechanic that helps even out the field. If a player is doing so well that all his pawns have left their home position, a Sorry card is worthless to him. But, to a player that is running behind, a Sorry card can bring him back into contention and hinder the leading player's progress. Games end up very close, with the winner usually only winning by a few spaces.
But here's the problem with Sorry: the game could run itself. I, as a player, don't have to make any decisions. Sure, I get to choose which piece I am going to knock back to start with a Sorry card, but ultimately, anyone would make the same "decision" as me 100 percent of the time. My apologies, board game Calvinists, but when I play a game, I want more than just the illusion of free will. Sorry is a good game for playing with your children, but it's not the kind of game I want to pick up and play regularly.
Allow me to suggest two easy-to-learn games that present the player with interesting choices and risks.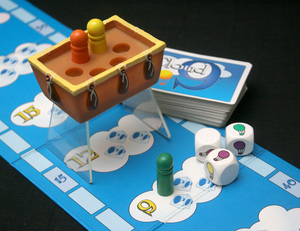 Mike Hulsebus | Contributor
Cloud 9 by Out of the Box Games is a game I've owned for a few years that still sees regular play. It plays two to six players and games take about 30 minutes to complete. Players receive a hand of cards in four different colors. When it is the player's turn to pilot the balloon, he begins by rolling two dice that will show what colors of cards he must play in order for the balloon to climb. Other players in the balloon then decide whether they want to stay in the balloon because they think that the pilot has the cards, or whether they want to get out before the pilot crashes the balloon by not having them. If the pilot has those colors, he must play them, and the balloon rises to higher point values. If he isn't able to play the cards, only the players that got out of the balloon score points; the rest get nothing.
This presents the player with a few different interesting decisions. He can opt to try and score regular, safe points a few at a time, or — especially if he is falling behind — he can try to go for broke and ride the balloon to the top and score maximum points. The higher the balloon rises, more difficult the dice rolls become, so the player has to figure out how much risk he is willing to take on.
While this game has lots of great choices, there isn't necessarily a lot of skill involved. Observant players can better figure out the odds of someone having certain cards — "Hmm, she didn't have purple last time, but I do I want to risk that maybe she has purple this time?" — rewarding people for paying attention but not requiring it.
Perhaps my favorite moment of Cloud 9 is the end. If two players reach the 50-point goal simultaneously, whoever ends that balloon trip with the most points wins. So one player could get out of the balloon, locking in that she'll end the round with enough points to win, but the remaining players in the balloon will get to finish the balloon trip, making a last ditch do-or-die effort to surpass her score before the balloon drops. So like Sorry, games come down to the wire, but in a "every decision counts" kind of way rather than a "who is randomly going to win" kind of way.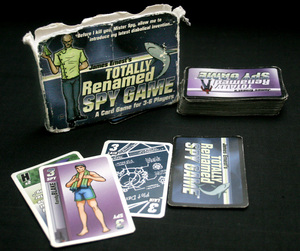 Mike Hulsebus | Contributor
A card game with slightly more strategy to it — and perhaps my favorite card game — is James Ernest's Totally Renamed Spy Game (previously titled Before I Kill You, Mr. Bond before they were forced to rename it). On first glance, you may make a few comparisons to War, but Spy Game is to War what major league baseball is to hitting rocks with a stick alone. Spy Game says it plays three to six players, but it plays with two players just fine (though it has a different feel and strategy with two).
Players play cards in front of them face down to form their evil mad scientist lair and earn points by capturing spies in their lair. The turn rules are pretty simple:
1) Draw two cards

2) Play a lair card face down to add to your lair if you want
3) Play a spy from anywhere to anywhere if you want
When a spy gets played on a lair, all of that lair's cards are turned face up. If the spy value is greater than the lair, the lair is destroyed. If not, the spy is captured and that lair's owner scores points equal to the spy's value.
But — and here's one of the interesting parts — the person who captured the spy has the option of doubling the spy's value as many times as he wants to attempt. The deck contains a set of cards lettered A-I, four of each. If a player plays an letter card, and no other player responds by playing a matching letter, the points are doubled. Otherwise the spy escapes and destroys the entire lair in the process. Players don't have to play letter cards if they have them though: in fact once you let one letter card go by, maybe you want save its match to double your own spy. This aspect of the game definitely can reward players that can remember which letter cards have already been played, but memory alone won't win the game for you.
The most innovative part of this game is that all spy cards have purple backs while lair and letter cards have blue backs. So you can immediately look at the back of someone's hand and get a feel for how many spies he or she has and base your strategy on that. Did they play a lair and not try to score a spy? Perhaps that spy in their hand is big enough to destroy their lair. So you can use the "play a spy from anywhere to anywhere" part of your turn to take the spy from their own hand and play it on themselves.
And like Cloud 9, if one player gets ahead and is nearing the points needed for victory, opponents can try and some daring last-minute doubles that, while unlikely, keeps the game interesting and contested to the very end.
So if you're looking to pick up some easy-to-understand games that allow you to play and make decisions, I'd recommend these two games. To those unfamiliar with the world of unconventional games, you're not going to find these in a Wal-Mart. Amazon carries a great deal of board games and has free shipping for orders over $25 and for those looking to shop locally, Get Your Game On (here in town at Packard and State) has a great selection and can do special orders on any games they don't have in stock.
Join me on Friday when we look at more fun alternatives to games you are tired of, starting with Trivial Pursuit, the least exciting party game I know. In the meantime, I'd love to hear your thoughts in the comments. What are some games you love that are simple yet still engaging after multiple plays?
Mike Hulsebus is an Ann Arbor resident who, despite his qualms with it, still plays Sorry from time to time. If you found him simple yet engaging or had any other comments, he can be reached at mikehulsebus@gmail.com.