column:

Former Michigan Marching Band member recalls trials, thrills of first game day

Posted on Sat, Sep 8, 2012 : 5:59 a.m.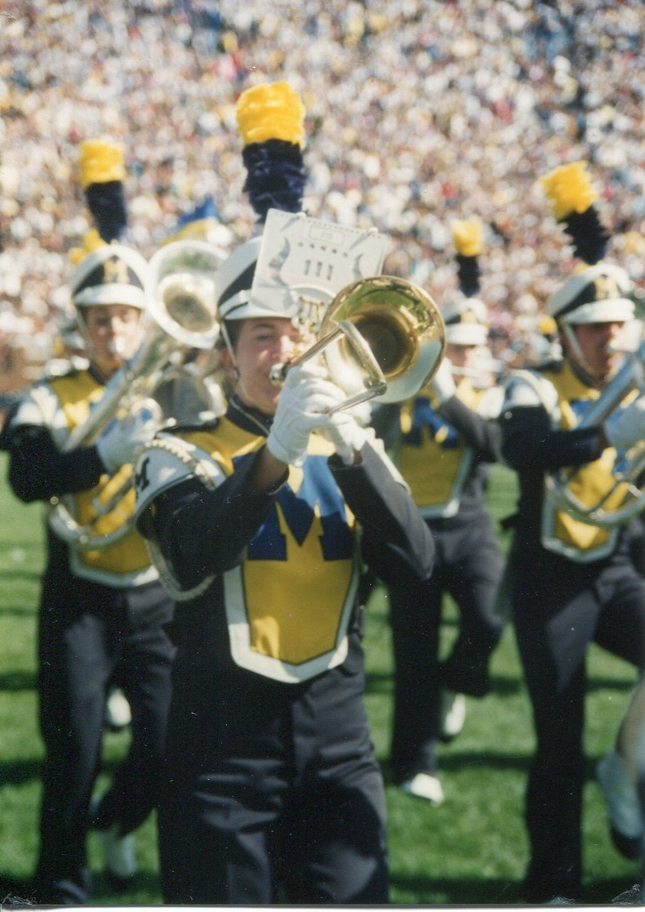 The day that would mark my Michigan Stadium debut as a member of the University of Michigan Marching Band, on Sept. 16, 1989, ignominiously began with a phone call.

Why? Because my alarm clock hadn't gone off.

The piercing, early morning ring of the phone in my East Quad triple launched me from my top bunk, and I struggled to simultaneously catch my breath, process what had happened, and hear my section leader, Kevin Karr (now a principal at Mitchell Elementary), say, "You coming, Jenn?"

Oops.

Quietly cursing in every way I knew how (my other, non-band roommates were still abed), I got dressed, laced up my black sneakers, grabbed my hat and plume (with the plume locked in place with a twisted-up paper clip, so mischievous fans couldn't yank it out), frantically tried to do a quick inventory of the many parts of my newly issued uniform (spats, gloves, overlay, pants, suspenders, epaulettes, jacket), and ran down the hallway of Second Hinsdale.

And while huffing and puffing to Elbel Field for the band's game-day morning rehearsal, I tried hard to keep it together. As a freshman, I'd somehow managed to earn a place in the band's performance block the first week (scores of reserve band members stood on the sidelines, waiting for their chance to "challenge" their way into the block the following Monday)—so this was hardly the first impression I'd wanted to make.

Plus, this wasn't just any old first game. It was Notre Dame. And while I'd never watched a game in Michigan Stadium ever before, even I knew what a big deal the rivalry was.

As I rushed down Hill and Division to rehearsal, the band had concluded the musical portion of its practice in Revelli Hall, and members, wearing shorts, T-shirts, and their uniform hat and plume, were doing the ritual dash out to Elbel Field (then a black, cracked pavement parking lot with hash marks and lines drawn in white paint). "I don't want to see anyone walking!" upperclassmen yelled.

But I had to get my trombone and music folder from my locker in Revelli Hall, so I swam upstream against the wave as others noted my late arrival with their eyes. I wanted the sidewalk to open up and swallow me whole.

It didn't, of course. And I got in place on Elbel as quickly as possible, apologizing to anyone who would listen, holding back tears. We ran through portions of the pregame and halftime shows, and I focused on putting the morning behind me.

Easier said than done. Yet after a short lunch break (hello cheap, nearby hot dog vendor!), I stood in full uniform in rank one in front of Revelli Hall. The drum major's whistle brought us to attention, then signaled for us to step off, in unison, toward Michigan Stadium.

Along the way, those around me yelled out the names of rank moves (Guillotines! Camels! Kicks! Machine guns!) while I concentrated on remembering how to do each without taking someone out with my trombone slide. It was like a bizarre, synchronized party, and I was finally starting to enjoy myself.

The drum major eventually whistled for us to halt in the stadium parking lot, which meant one thing: the dreaded Parking Lot Victors, which entailed playing the fight song trio in bystanders' faces twice, while doing high step marching up an incline. By song's end, we were all sweating and panting, and we hadn't yet marched a step of the band's brutally exhausting pregame.

In anticipation of that event, the drum major released us, by ranks, to run into the tunnel, where we quickly lined up in the order in which we'd come bursting out for pregame. Band members high-fived, bounced on their toes, voiced old cheers and chants, and howled, until a few Notre Dame coaches and players appeared at the mouth of the tunnel. Band members drew themselves to attention and grew silent. "Don't look in their eyes. Just look at the wall," the senior behind me hissed.

The Irish talked up their team as the players ambled to the locker room, through the now echo-ey tunnel, and I barely moved or breathed until they were past, thinking, in the weird solemnity of the moment, that an opposing player might just randomly pop a chick trombone player. But afterward, when the Wolverines hit the tunnel, everyone's stance relaxed, and a drummer played a cadence as everyone chanted "Let's go blue" and pumped a fist in the air.

When the locker room door closed behind the players, band members linked arms (as much as they could with instruments in-hand) and sang a starting pitch. I had no idea where this was going, but I played along; and when I recognized that we were singing "The Yellow and Blue," I joined in, having been forced to learn the words while waiting for my uniform fitting only a couple of nights before.

This ended up being one of my favorite, most spine-tingling moments of that first game day. Hearing more than 200 people stoutly sing this old, majestically corny alma mater ("Yellow the field where ripens the grain / And yellow the moon on the harvest wain"?) as the tunnel filled with song was (and is, every year at Homecoming) a profoundly moving experience. You can't help but think, while singing, of the history and tradition that precedes you, and how amazing it is that you're getting to experience what lies ahead.

Which, no matter how long you've waited, still seems to come quickly. That first game day, when the drum major led the long entry lines down to the mouth of the tunnel (I was close to the front), and I heard announcer Carl Grapentine say over the loudspeaker, "Ladies and gentlemen, the 225-member Michigan Marching Band. Baaaaaaaaaand take the field," my heart just stopped beating.

But I had a job to do, so along with everyone else around me, I cued the whistles, "Tweet! Tweet! Tweet! Tweet!" so those who couldn't hear them would know they'd been sounded, and started doing mini-entries, so as to be in step when I exploded out of the tunnel into a jarring world of light, noise, and 100,000 people. It's a sonic boom "wow" moment like no other.

To stay focused, I stared hard at the "M" on the back of the upperclassman in front of me, afraid I'd get disoriented and head down the wrong yard line, and tried to keep pace with him as we reached our spot near the press-box sideline. I focused doggedly on pumping my legs, and when the drums indicated that everyone was in position, we all folded out from our lines, forming a block "M," pointed our horns up toward director Jerry Luckhardt, and played "M Fanfare."

Which is hard to do when you're also gasping for breath and overwhelmed and kind of crying—like I was on that overcast Saturday—but I did my best. And when the last note of the "Fanfare" rang through the stadium, we marched our way into sweep lines, playing the intro to "The Victors" as we high-stepped toward the student section. (Pre-game was entirely high-step back then, which was why it was so physically grueling. And I mention this while not at all passing judgment on the current way pregame is performed—with about 10 yards of high step—because truth be known, one of the consequences of the all-high-step show was that "The Victors" often had a tempo akin to "Danny Boy" or "Bolero.")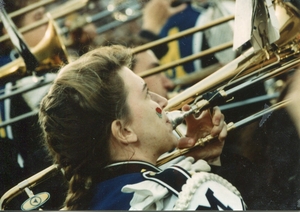 I got very few notes out during that first pregame—not unusual for a first-timer—and was a bit thrown off by the delay between the music and the crowd's singing. But I focused on keeping up and not sticking out.
In the end, the day turned out to be a pretty crummy one in terms of the weather (rainy), the game (the Irish won), and the post-game (standing in the rain after a deflating loss, spelling "Joan" on the field and playing "Happy Birthday"—a clip that would air for Joan Lunden on "Good Morning America" the following Tuesday). And the band wasn't, at that point, equipped to show film of our performances immediately after the game—so frankly, I had no idea what pregame looked like. It just felt like a ridiculously crazy, torturous ritual of physical and musical exertion.
But a few weeks later, they showed us some footage like this.
And while watching, I got it. I realized what all that over-the-top effort was for, and what a special (and challenging) privilege it was to perform that show, in uniform, in Michigan Stadium.
I was never, over the course of five seasons, late for a Saturday morning rehearsal again. And it finally felt really, really cool to be a band geek.