Posted on
Sun, Jun 2, 2013 : 1:56 a.m.
'A Prairie Home Companion' brought Lake Wobegon to Hill Auditorium on Saturday
By Jenn McKee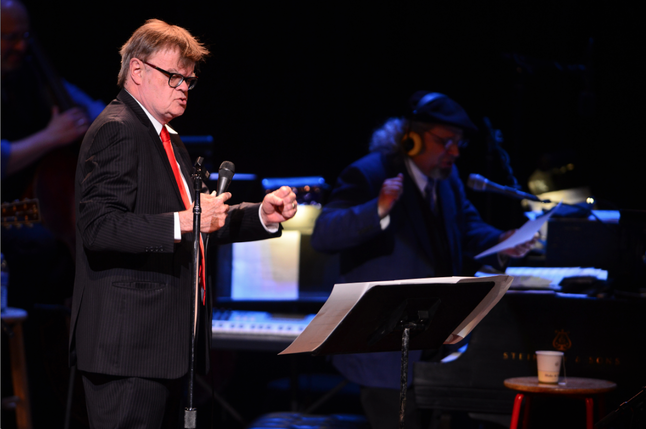 Photo by Courtney Sacco | AnnArbor.com
About 90 seconds before launching into the live broadcast of
"A Prairie Home Companion"
from Hill Auditorium on Saturday evening - which kicked off this year's
Ann Arbor Summer Festival
- host
Garrison Keillor
told the capacity crowd that they'd have the chance to play a key role early in the show.
"After we run through our version … of 'Hail to the Victors,' we want you to get up and sing the real thing with real spirit and pizzazz, OK?" Keillor said. "Bring tears to the eyes of alumni … across the country."
Keillor's version of U-M's famous fight song included the lines, "It is a lullaby that's sung here in Michigan so little children find out where they are from. They are from Michigan, and they must be victors, and they must beat Ohio or else go live somewhere else."
"Prairie"'s music director, Richard Dworsky, quickly followed this up with an extra verse dedicated to his uncle, Daniel Dworsky, who played linebacker on a No. 1-ranked Michigan football team in the 1940s.
Ann Arbor and U-M played various playful roles throughout the broadcast - one of the main characters in "Lives of the Cowboys" wanted to stop in Ann Arbor to visit an old girlfriend, and Guy Noir, Private Eye, was working on a case for the YMCA (Ypsilanti Michigan Camping Association) - but one of Keillor's quieter meditations, inspired by a walk through U-M's campus, may have been the most incisive.
"It all comes back to you, those glorious, glorious car-crash years of your college education, when you just ran headlong through life, … like you were running through the woods, … thinking this was going to lead to something great," said Keillor. "Then you got to the end of it without any clue what to do."
In another show segment, Keillor noted some highlights of the university's history, and talked about three of its presidents and their accomplishments, making a point to include this former U-M President Harlan Hatcher quote: ''There is nothing 'cloistered' about a modern state university with more than 15,000 students. In fact, I periodically escape from the rush of the university into the peace and contemplative quiet of New York City.''
Late in the broadcast, a song referenced several places and people familiar to locals, including the Dawn Treader Book Shop; the Woody Allen/Anais Nin/Franz Kafka/Herman Hesse mural on Liberty Street; The Ark; Graffiti Alley and the Michael Jackson-like street dancer; and the cafe called lab. ("You can tell it is a very hip place/ because all the typography is lower case.")
Seeing a broadcast of "Prairie" "was actually on my bucket list," said Chelsea's Ruste Wilke, who came with 3 fellow U-M grads. " … I've listened to that show since my kids were babies, and my oldest is 27 now."
"I thought it was fun to see the guy with the sound effects, how he was really doing it all," said Ann Arbor's Annie Rickert. " … And I like (Keillor's) voice. I actually closed my eyes a few times, because I just thought, 'I just want to sit and listen to him, like I always do.'"
Chelsea's Rob Wilke, meanwhile, was impressed with "Prairie" actress Sue Scott: "I like the way you got to see her doing so many different kinds of voices. They didn't do it today, but a lot of times, she's the nagging mother, and yet she's also the sexy woman on the island, and everything in between. That was really interesting to see."
Milan's Mike Neuburger, who's listened to "Prairie" since he was a young kid, appreciated "seeing how it all works," while Ann Arbor's Danielle Frailey was wowed by the way Keillor presented the beloved "News from Lake Wobegon" segment.
"I didn't realize that he doesn't read from a script or anything during that," said Frailey. "He totally did that from memory. That's amazing."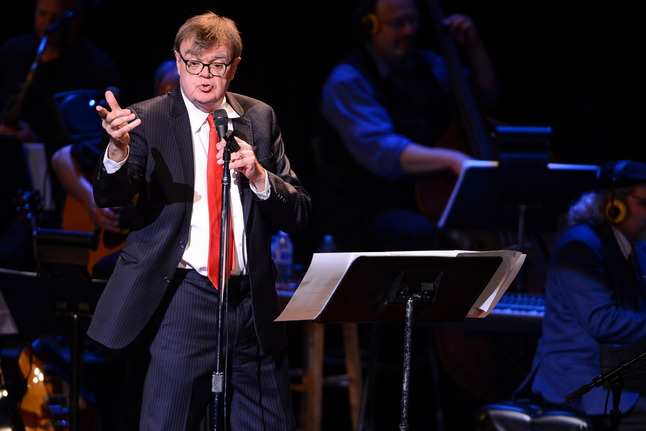 Courtney Sacco | AnnArbor.com
Jenn McKee is an entertainment reporter for AnnArbor.com. Reach her at jennmckee@annarbor.com or 734-623-2546, and follow her on Twitter @jennmckee.