Posted on
Tue, Nov 27, 2012 : 9:20 a.m.
'A Prairie Home Companion' with Garrison Keillor coming to Ann Arbor
By Bob Needham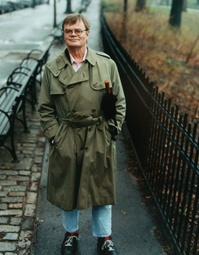 photo by Velenchenko
It's long been a given that the Ann Arbor / Ypsilanti area loves its public radio. So it's pretty big news that the public-radio mainstay
"A Prairie Home Companion"
and host
Garrison Keillor
will return to Ann Arbor for a live broadcast from Hill Auditorium next year.
The show will take place Saturday, June 1, 2013. Although announced today, tickets won't go on sale until next April.
The event will be part of the Ann Arbor Summer Festival, and will be sponsored by Michigan Radio, the public-radio operation at the University of Michigan, including WUOM (91.7-FM) in Ann Arbor.
Tickets will be priced at $75, $65, $55, $45 and $35. They will go on sale Monday, April 15, 2013, at 9 a.m., and will be available online at www.A2SF.org; by phone at 734-764-2538 or toll-free in Michigan at 800-221-1229; or in person at the Michigan League Ticket Office, 911 N. University Ave.
Hill Auditorium turns 100 years old next spring, and the live broadcast is considered part of the celebration of that milestone. This will be at least the fourth time "A Prairie Home Companion" has broadcast from Hill; the most recent was in 2008. Broadcasts were also done in 2001 and 1996.
"Over the years, Hill Auditorium has been home to some of the world's best performances, and we're excited that Garrison Keillor is returning to Ann Arbor to help pay tribute to that great history," Steve Schram, director of broadcasting at Michigan Radio, said in a press release.
"A Prairie Home Companion" is one of the landmark programs in public radio, combining sketches, roots-oriented music, storytelling and more into a long-running package. The show, which started in 1974, airs weekly on more than 580 public radio stations and is heard by more than 4 million listeners. Keillor has also written 13 books.
The Ann Arbor performance is expected to include live performances by special guests, along with comical skits by Keillor and the Royal Academy of Radio Actors; Tim Russell, Sue Scott, and sound effects man Fred Newman, and The Guy's All-Star Shoe Band. Keillor will weave local humor into the show, the announcement said.
"'A Prairie Home Companion' is a public radio gem," Schram said, "and I'm delighted that fans throughout the region will be able to enjoy this local, live performance."
The show regularly airs Saturdays at 6 p.m. on Michigan Radio, and is repeated at noon Sundays.
Bob Needham is director of entertainment content for AnnArbor.com. Reach him at bobneedham@annarbor.com or 734-623-2541, and follow him on Twitter @bobneedham.