Posted on
Mon, Nov 2, 2009 : 11 a.m.
A shepherd for Ann Arbor's music scene: Jim Roll
By Jeremy Peters
He's lived in town for the past 18 years, after 25 years in the suburbs of Chicago. In those 18 years, Jim Roll has put together a wide ranging career - working part time in the University of Michigan's School of Public Health, touring as a live musician, and building a successful studio.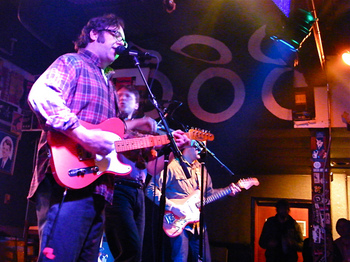 Nowadays, he runs local recording studio. "I've been Backseat Productions since 1997. I had a studio on State Street back then - renting rooms from OZ's music. I did my first [solo] record there." After moving out of that space and recording out of houses and basements for several years, Roll then moved his recording gear into the old space occupied by 40 Oz. Sound on Jackson Rd. in Ann Arbor.
This move helped solidify Jim and Backseat Productions in the Southeast Michigan recording scene as somewhat of a go-to engineer for a litany of artists including Dick Siegel, Chris Bathgate, Breathe Owl Breathe, Chris Buhalis, and Frontier Ruckus among many others. Matthew Milia of Frontier Ruckus summed it up saying, "No matter how much ego or inevitable tension is produced in a recording session, Jim himself is the ultimate equalizer to make sure that it's only the best stuff that actually gets recorded."
"Locally, I have had the good fortune to work with everyone I love," said Roll. "I am open to new talent and Ann Arbor seems to churn it out at an amazing rate." If given the chance, he wouldn't turn down a chance to record acts from outside michigan though, saying, "It would be a dream to record Silver Jews, Richard Buckner, Vic Chesnutt, or Bon Iver."
On top of a career recording artists, he's been a recording artist himself. Roll has released and toured around 3 solo recordings. 2002's Inhabiting the Ball was released to much critical acclaim, including a spot in Amazon.com's Top 10 Rock Albums of that year. Since then, Roll has seen many changes, both within the local music scene and the record industry in general.
Though his main focus is now as a recording engineer, he's not completely given up on his solo career. "I have a new one in the works. It's kind of a theme record based in 2070 AD or so and is loosely based on some graphic novels I read a few years back. It's on the shelf right now, but I hope to get to it later this year."
"I was on a label called New West," said Roll. "[New West] is huge now... but when I signed they didn't have a lot of money, so I didn't have tour support. Later, I was on a small label out of Brooklyn called The Telegraph Company." Roll continued, "It was a lot of driving. I would do roughly 150 dates per year. It was rough touring. No money, small crowds and every other show sucked."
Though it may not seem like it from his quotes above, Jim's experience, perhaps colored by a few years passing, was a good one. In his own words, Roll summed up the experience as such: "I met lots of great musicians, learned a lot about playing music, and a lot about how to stay awake late at night while driving."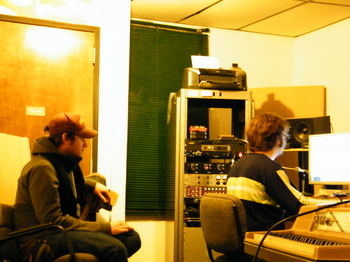 Given the amount of time he's been a performer and engineer, and the wide list of clientele he's recorded, Roll's is considered by some as the shepherd of some parts of the local music scene, Jim Roll has amassed quite an interesting career over the past few years of his life. "Between his own catalog, his studio output and the way he is stitched into so many aspects of this musical community, Jim has assembled a collective body of work that, in my opinion, rivals some of the region's most storied acts," said Scott Sellwood of Drunken Barn Dance, another artist who has recorded with Roll at Backseat Production. Roll also plays bass for Scott's project when they do full band shows.
Roll had an opinion on this as well. "I guess I feel like I bridged the gap between two generations of musicians that I know of, the more traditional songwriters like Dick Siegel, Brian Lillie, Chris Buhalis, Joe Serrepere and the current group of Chris Bathgate, Matt Jones, Misty Lyn and others," he said.
Some argue there isn't what could be called a music scene here, but it seems, given a booked studio, a solo career, Jim disagrees with that notion. "We haven't had our Nirvana or REM or Elliott Smith yet, but the talent is here, especially per capita. I did enough touring where I think I have some perspective. Maybe it is a bit fragmented, but that probably more reflects the global communication explosion of recent years. Lots of influences everywhere."
Scene or no, Roll is a vital piece in the puzzle of Ann Arbor music as a musician and engineer. He's laid his imprint on multiple artists and done his part to instill the knowledge of an older generation of artists into the younger, fresh-faced musicians sprouting from our fertile grounds here. Lucky for us, it seems like he's here for good.
Jeremy Peters covers what he likes to call the Underbelly of the Local Arts and Music Scene as a community blogger for AnnArbor.com. He can be reached at 734-217-4570 or jeremyjohnpeters@gmail.com.