Posted on
Sun, Nov 15, 2009 : 5:05 a.m.
A unique perspective from artist Cathy Barry
By Martin Bandyke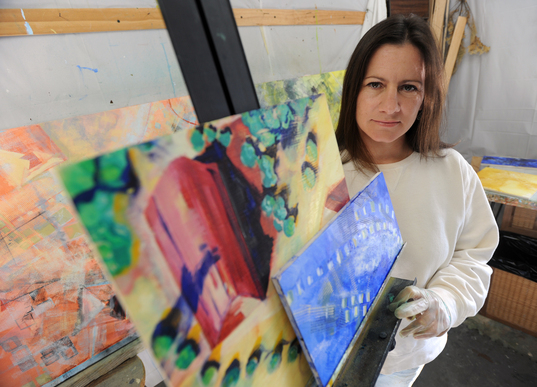 Lon Horwedel | AnnArbor.com
Artists are often called people with a different perspective on life, and in the case of Ann Arbor landscape painter
Cathy Barry
that is literally true. Her latest series of oil paintings gives you the impression that you're floating above the ground in a hot air balloon or small airplane and looking down upon the land from an aerial perspective.
Barry, who both makes and teaches art, has her hands happily full at the moment as she prepares for a couple of exhibitions at the Chelsea Center for the Arts. One will consist of her latest paintings and the other one will feature works by other artists that she is choosing, her first stint as a curator.
Already an art instructor at Washtenaw Community College and the Chelsea Center for the Arts, Barry will also start teaching a class at the University of Michigan School of Art & Design this winter. And in the what-goes-around-comes-around department, it was a class at U-M that Barry took years ago that got her hooked on art in the first place.
"I went back to school after being out of school for many years," Barry explains. "I didn't know what I wanted to do, but I was majoring in sociology. I took an elective class on drawing and couldn't get enough of it. It was all homework I wanted to do, and I followed that feeling of 'this is where I belong.' I really wanted to find out more about this art thing."
Barry has been working on paintings with an aerial perspective for about the last five years. "It really evolved through my graduate work," she says. "I was a pretty traditional plein-air landscape painter, and then was challenged by a couple of professors to think about the horizon line and what it had to do with my work. I eventually eliminated even having a horizon line in a landscape painting and began moving up. I did some birds-eye view work and then started looking at all this satellite imagery of the earth. That took my breath away and I started working that way."
For research and inspiration on her new artistic perspective, Barry pored over books, maps and magazines, but also went even further. "I decided it might be good to get my own images to work from, so I took a ride with someone who flies a small plane," she explains. "We started at the Argo Dam, then followed the Huron River up through Dexter and Chelsea. I shot some great photographs of things I'm really interested in right now, land use that runs from natural areas to urban areas, the way all those shapes and colors transition — or don't."
Barry recently gave me a tour of her northwest Ann Arbor studio, where she is working on several paintings, all of them incorporating aerial viewpoints and boasting vivid, beautifully blended colors. What also struck me was the scarcity of paintbrushes in her studio, leaving me to wonder how she crafts her canvases.
"I love exploring and experimenting with what I can make paint do," says Barry. "I use dry wall tape and cloth and palette knives, and unless I'm working on small paintings I don't use a brush that often." An exhibition of Barry's new paintings is scheduled for this coming January at the Chelsea Center for the Arts, but before that the CCA (400 Congdon St. in Chelsea) will feature an exhibition entitled "Hydrology," with artwork of Barry's choosing.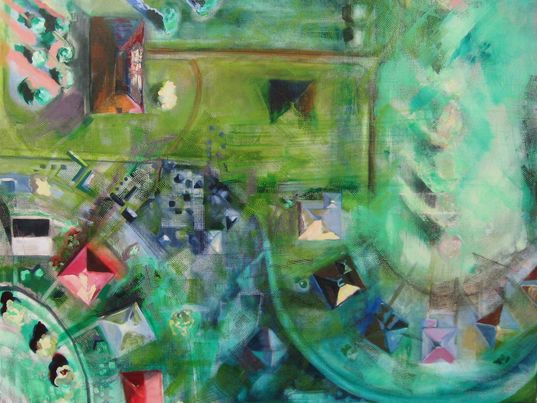 courtesy of the artist
"Aubrey Martinson, the executive director of the center, invited me to curate something," Barry says. "So considering how I'm focused on land and water use, the hydrology theme emerged and I'm really excited about it. I've been getting some beautiful submissions and look forward to putting together a cohesive body of work." "Hydrology," co-sponsored by the Huron River Watershed Council and the Legacy Land Conservancy, will open at the CCA today (Nov. 15) and run through December 18, with a reception on December 4.
Whether painting, curating or teaching, Cathy Barry is passionately focused on art this is loaded with ideas and executed brilliantly. Check out her paintings at her web site.
Martin Bandyke is the 6-10am morning drive host on Ann Arbor's 107one. Follow him on Twitter @martinbandyke and at his web site.