Posted on
Fri, Mar 8, 2013 : 11:36 a.m.
A2CT curls up to Williams' 'Cat on a Hot Tin Roof'
By Jenn McKee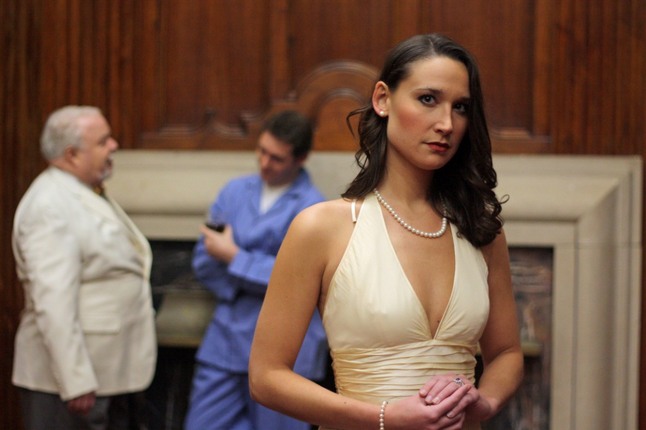 Photo by Tom Steppe
Cast members of
Ann Arbor Civic Theatre
's new production of
Tennessee Williams
' "Cat on a Hot Tin Roof," by way of dialect preparation, have listened to transplanted Southerners tell personal stories, performed vocal exercises, and watched clips from "Designing Women"—particularly monologues delivered by the late
Dixie Carter
.
And while this may sound more like fun than work, director Kat Walsh—a former Texan herself—noted that the otherwise demanding nature of the rehearsals is "physically exhausting. These actors tell me that they go home and just collapse after rehearsal."
Partly, this stems from Walsh's philosophy, wherein the actors work as a true ensemble to create the play's world together.
PREVIEW
"Cat on a Hot Tin Roof"
Who: Ann Arbor Civic Theatre.
What: Tennessee Williams' Pulitzer Prize winning drama about a Southern family in crisis. Maggie, who escaped poverty by marrying a football hero within the wealthy Pollitt family, tries to convince her depressed, alcoholic husband Brick to make a play for the family inheritance, as everyone gathers to celebrate Big Daddy Pollitt's 65th birthday, knowing it's probably his last.
Where: U-M's Arthur Miller Theatre, in the Walgreen Drama Center at 1226 Murfin in Ann Arbor.
When: Thursday-Saturday at 8 p.m., and Sunday at 2 p.m., March 14-17.
How much: $22 ($20 for seniors); all tickets for Thursday's performance cost $17, and student tickets for all performances cost $11. 734-971-2228 or www.a2ct.org.
"From the beginning, I told the cast, if we make this show solely about Maggie and Brick, it's going to fail," said Walsh. "It's about everyone on the stage. Yes, the play focuses on the relationship between these two characters for a longer period, especially in the first act, but there are also lots of moments where the outside world is trying to break in, too."
The play, which premiered in 1955 (and won the Pulitzer Prize), focuses on the wealthy Pollitt family of Mississippi. The Pollitts have gathered to celebrate Big Daddy's 65th birthday, which everyone knows—except Big Daddy and his wife—will be his last, since he's suffering from cancer. Big brother Gooper and his wife Mae, parents to five children, are making a play for the family inheritance, while neglected, feisty Maggie and her alcoholic, former football star husband, Brick, do battle over the coldness that's settled over the marriage since Brick's best friend's suicide.
Dialogue-wise, the actress playing Maggie (Anna Heinl in A2CT's production) must carry the weight of the first act on her shoulders; but Walsh lets interruptions by Mae, Mama, and the croquet game happening outside (depicted with shadow puppets) break it up.
"That's the gift the cast gives the leads," said Walsh. "No one can have that intense of a conversation for 45 minutes. So Williams provides breaks to diffuse it, and uses humor. If it's done successfully, that's what's supposed to happen there."
Many people associate "Cat" with the 1958 film adaptation starring Elizabeth Taylor and Paul Newman. But the play appeared on Walsh's radar as a young teenager who fell in love with Wiliiams' writing.
Even so, "Cat" will mark Walsh's first attempt to direct a Williams show.
"It's terrifying to approach the work of Tennessee Williams, and that's a good thing," said Walsh. "As artists, whether you're working at the community theater level or you're a professional, when you're scared, you have the potential to create something really good. Williams also just has this way of painting a picture of life in the South. Having been from there myself, I was recently talking with the cast about … two really important characters in the play: God and the land. For Southerners, they're both just part of daily life. We may take these things for granted, but it's important to Tennessee Williams' world, especially in Mississippi."
Why, though, did Walsh seize upon "Cat" as her Tennessee Williams play of choice?
"It really is just about this family, and how they're all trying to find meaning," said Walsh. "We're all trying to find acceptance, and when we don't get that, what's left? The land? A baby? They're fighting for these other things because they don't get the acceptance they crave. And that's our story, too. The one we've inherited as human beings."
Jenn McKee is the entertainment digital journalist for AnnArbor.com. Reach her at jennmckee@annarbor.com or 734-623-2546, and follow her on Twitter @jennmckee.