play preview
A2CT evokes memories of family car trips by 'Leaving Iowa'
Posted on Sun, Apr 29, 2012 : 5:53 a.m.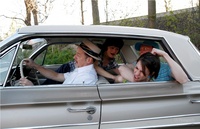 Photo by Caleb Newman

Michael Schacherbauer, now directing "Leaving Iowa" for Ann Arbor Civic Theatre, had an advantage that most directors don't: He got to see several of his ideas for a show in action before rehearsals for his own production got under way, thanks to a "Leaving" excerpt that was presented at a community theater conference in Ohio.

By sheer coincidence, the excerpt's director had a vision for the show that hewed closely to Schacherbauer's own.

"By that time, I had already been offered the show to direct at Ann Arbor Civic, so I was watching ('Leaving') with a different eye than I did the first time, because I knew I was going to be directing it," said Schacherbauer, who first saw the show courtesy of the Farmington Players. "I had all these ideas in mind, and the excerpt I saw … reaffirmed that I was headed in right direction, and it excited me even more to work with the script."

The show, written by Tom Clue and Spike Manton, had its world premiere at the Purple Rose Theatre in 2003, and tells the memory-drenched story of a middle-aged man, Don, who's searching for the right place to leave his father's ashes. For although his father's wish had been to have them scattered at his boyhood home, the house has since been demolished and replaced with a grocery store, thereby causing Don to drive through Iowa while mentally revisiting the long family car trips he endured as a boy.

"It's so endearing, because anyone that's ever been on a road trip with a family, whether it be a one-day or a one-afternoon trip, or a 2-week trip across the country ... Everyone has experienced what this family experiences in 'Leaving Iowa,'" said Schacherbauer. " … Everyone involved in the production says, 'Oh, my word, that brings back memories.'"

Like, for example, a parent's glance toward the back seat, causing siblings to suddenly stop fighting and sit quietly like silent angels.
PREVIEW
"Leaving Iowa"
Who: Ann Arbor Civic Theatre.
What: Tom Clue and Spike Manton's play about a middle-aged writer, Don Browning, who's charged with taking his deceased father's ashes back to the family home. After learning the house has been torn down and replaced with a grocery store, Don journeys across Iowa, searching for a proper resting place while also remembering the good and bad of past family road trips.
Where: The University of Michigan's Arthur Miller Theater, in the Walgreen Drama Center, 1226 Murfin.
When: Thursday-Saturday at 8 p.m., and Sunday at 2 p.m., May 3-6.
How much: $20 ($18 for seniors, $10 for students). Tickets for Thursday's performance cost $15. For advance tickets, 734-971-2228 or www.a2ct.org.
"What's really fun about this show is, a lot of the memory sequences that (Don)'s remembering about the family vacation are through his eyes as a 10-year-old," said Schacherbauer. "So the things that happen can be a little bit exaggerated, or a little bit more extreme, because it's as the child remembers it versus if it was happening to him as an adult."
This playful tone is extended to the production's leave-it-to-the-imagination look and atmosphere. Instead of trying to build a realistic-looking car, Schacherbauer simply uses wooden blocks to suggest the frame; raises up the brother and sister in the "back seat" so they're visible behind the parents; and gives the father a steering wheel that might come off the "car" at random times, when the father's lost his temper.
"If you had a real realistic looking car, it would confine the actors so much that we wouldn't be able to get as much humor out of scenes," said Schacherbauer. "So it's a very suggestive set. … It's almost a set-less show."
Among the show's tests, according to Schacherbauer, is making quick, smooth transitions between scenes, so that an easy flow is established.
"And the challenge for the 2 actors that play the sister and Don … is, they have to play children, 8 to 10 year old children, as well as adults," said Schacherbauer. "They have to be able to flip that switch back and forth very quickly."
The show has moments of poignancy, but it's also designed to make audiences laugh. Even so, Schacherbauer has been careful to not force the comedy's hand too much.
"To me, what makes comedy work is when you try not to make it funny," he said. "If you try to make it funny, it falls flat. This cast is very good at not forcing the comedy at the audience, and I think the audience is going to have a remarkable time at this play. … They still make me laugh every night at rehearsal."
Here's a video promo for the play.