Posted on
Fri, Sep 6, 2013 : 3:30 a.m.
A2CT kicks off its 2013-14 season with a polished 'Les Miserables'
By Jenn McKee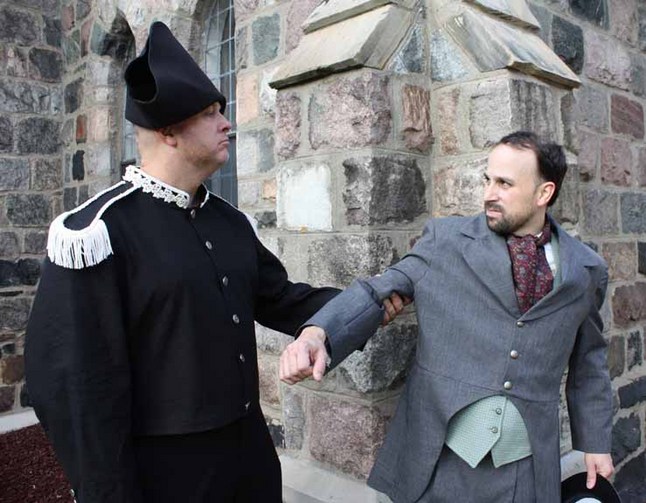 Like any self-respecting member of a high school thespian society in the late 80s, I listened to the Broadway cast recording of "Les Miserables" until my cassette committed tape-icide, and I sang "I Dreamed a Dream" for an audition. For many of us, the show's tragic drama was like catnip for adolescents.
So when the show's rights were finally released earlier this year, and "Les Mis" productions appeared on multiple local theater companies' schedules, I wondered how the show would look now through my 42 year old eyes. But if nothing else, Ann Arbor Civic Theatre's big, polished production of the beloved show demonstrates its timelessness.
Based on Victor Hugo's epic novel, "Les Mis" - with a book by Alain Boublil and Claude-Michel Schonberg, music by Schonberg, and lyrics by Herbert Kretzmer - initially focuses on Jean Valjean (Anthony J. Provenzola), who's served 19 years in prison for stealing a loaf of bread for his sister and her child. When his sentence is up, he's paroled and tries to work, only to face contempt and abuse. He soon tears up his parole papers in order to start a new life, but police inspector Javert (Michael Smith) won't let go of his former charge so easily.
Director Rachel Francisco, overseeing a cast of more than 50, stages the three hours-plus show with smarts and sensitivity, establishing a good sense of pace without ever pushing too hard. Yes, there were a couple of clunky moments - some sketchy marching maneuvers in the otherwise rousing "One Day More," and "At the End of the Day" seemed visually flat in its first half - but the production's many, many moments of magic (like the lively, bawdy "Master of the House" number, or the ensemble singing the final verse of "Do You Hear the People Sing" nearly a capella) far outweighed them.
Music director Jennifer Goltz also deserves accolades; the ensemble, as well as the soloists, generally sound terrific, and soloists particularly make a point of deviating from the cast recording's well-worn vocal flourishes, which helps make the characters more fresh, and more immediate.
Provenzola ably anchors the show, emotionally and vocally, while Smith provides him with an appropriately dogged foil. Yet some of my favorite opening night moments came courtesy of supporting players. Trisha Fountain, as Madame Thenardier, is a memorable scene stealer; Robby Griswold sings like a dream (and has great stage presence) as revolution leader Enjolras; January Provenzola makes Fantine human, conveying the character's profound sense of loss; and Dustin Lolli and Katy Kujala, as young lovers Marius and Cosette, fittingly make beautiful music together. But Kimmy Hay, as Eponine, left the biggest impression. Her gorgeous vocals, paired with her character's tragic trajectory, make you just ache in sympathy.
Andres Holder's lighting design is affecting and complementary, without drawing too much attention to itself, while Francisco's economic set - two scenery wagons and a raised bridge - manages to do a lot with very little. Costume designers Nan Wirth and Christine Silveira, meanwhile, might deserve some kind of medal for their fine work, outfitting 50-plus performers, some of them multiple times, with care and skill.
On opening night, "Les Mis" suffered some occasional microphone issues - the sound suddenly dropping out, or static making vocals aurally cloudy - but for the most part, the show was well-sung, well-staged, and well-executed. And yes, after all these years, it still packs a big emotional wallop.
Jenn McKee is an entertainment reporter for AnnArbor.com. Reach her at jennmckee@annarbor.com or 734-623-2546, and follow her on Twitter @jennmckee.