Posted on
Tue, Feb 12, 2013 : 5:53 a.m.
A2CT Studio Series presents two Chekhov one act comedies
By AnnArbor.com Staff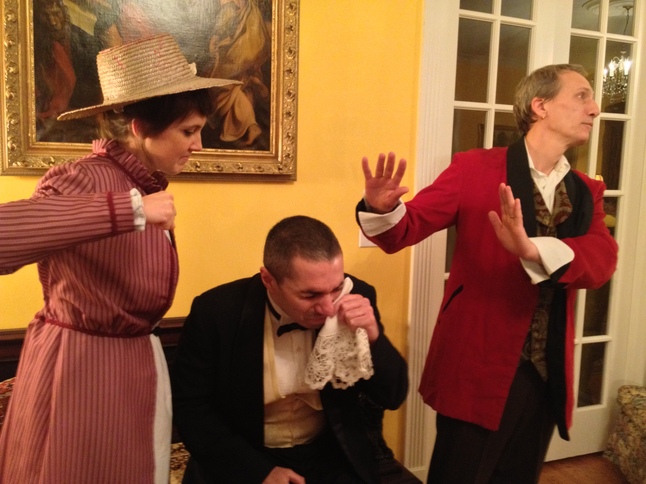 Photo by Sarah Erlewine
Ann Arbor Civic Theatre
presents Hilarious Chekhov: "The Bear" and "The Proposal," a duo of one-act comedies by
Anton Chekhov
, translated and directed by
John Hill
, Feb. 15-17 at the A2CT Studio Theater, 322 W. Ann St. in Ann Arbor.
Performances are Feb. 15 and 16 at 8 p.m. and Feb. 17 at 2 p.m. All tickets are $12 for general seating. For additional information, maps, and directions visit the A2CT website at www.a2ct.org or call the office at 734-971-2228.
Hilarious Chekhov features two of Chekhov's lightest one-act plays. In "The Bear," a landowner comes to claim a debt from a young woman whose husband has just died. Out of grief, she refuses to see him—as an attempt to prove to her faithless dead husband that women are more loyal than men. Eventually, the young widow and the landowner quarrel and decide to fight a duel, leaving the landowner so impressed that he falls madly in love with her. "The Proposal" portrays a nervous young farmer who comes to propose to his neighbor's daughter. Instead of making the proposal, the two young people get involved in comic arguments. The young man leaves, and the girl goes into hysterics until the father agrees to go after the young man.
"I love the works of Anton Chekhov," said Hill in a press release. "A lot of people think he only penned dreary, Russian dramas, but he actually wrote a lot of comedy. I chose these particular one-acts because they transcend the Russian heaviness usually associated with Chekhov, and are universal in their themes and humor. I decided to write the translations because I wanted the dialogue to be as relevant to the audience as possible, and I was eager to put my fluency in Russian to the ultimate test!"
The talented cast of Hilarious Chekhov features Jillian Albert, Mo El Zaatari, Allan Guilpain, David Keren, and Mike Schiller.