Posted on
Mon, May 13, 2013 : 5:43 a.m.
A2CT's Junior Theatre to present 'Anne of Green Gables' at Matthaei
By Jenn McKee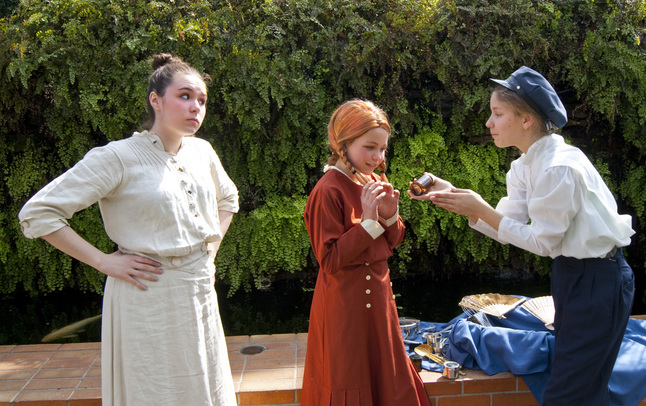 Photo by David Widmayer
Fans of
Lucy Maud Montgomery
's "Anne of Green Gables" might want to check out
Ann Arbor Civic Theatre
's Junior Theatre stage adaptation of the classic children's novel.
Complete show details are contained in the following press release.
Ann Arbor Civic Theatre's Junior Theatre presents an original adaptation of the classic children's book "Anne of Green Gables" by Lucy Maud Montgomery, adapted and directed by Jacqueline Courteau. Performances are May 18-19, 2013, on the Willow Pond Island at The UM Matthaei Botanical Gardens, 1800 N. Dixboro Rd, Ann Arbor, 48105. In case of rain, the show will take place indoors in the Botanical Gardens' auditorium. Parking at Matthaei is $1.20 per hour. Performances are Saturday at 10 a.m., 1 p.m., and 4 p.m. and Sunday at 1 p.m. and 4 p.m. Tickets are $5 for children and $8 for adults, and seating is general admission. Those attending are urged to bring blankets or cushions for kids wishing to sit on the ground in front of the stage, and camp chairs for adults wishing to follow the action taking place in various locations on the island. Tickets are available at the door or by calling the A2CT box office at 734-971-2228. Information is also available by visiting www.a2ct.org. "Anne of Green Gables" is appropriate for ages four and up.

In this charming original adaptation of "Anne of Green Gables," from the beloved book by Lucy Maud Montgomery, spunky Anne Shirley, an imaginative red-headed orphan, is adopted by an elderly brother and sister. Anne learns the ways of their farm and the Cuthberts learn what it's like to raise a spirited, loving child.

While the story of "Anne of Green Gables" contains several key male characters, this production features an all-girl cast. "We didn't have any boys audition," says director Jacqueline Courteau, "although there are great roles for boys. The young women who auditioned were all excited to play any part, so I cast girls in the male parts, as well. The actors in this cast are so talented and versatile, they make every character they play utterly believable!"

The talented cast of Anne of Green Gables features Madison Burk, Savanna Cowley, Ameila Hatcher-Kay, Charlotte Hawley, and Margaret Lareau sharing the role of Anne; Cezanne Smith as Matthew; and Cydney Heed and Bonnie Christilaw sharing the role of Marilla. The cast also includes Ellie Baden, Sonja Benjamins-Carey, Hana Eltantawy, Lucie Roy, Julia Graham, Melody Hassani, Rachel Howell, Annabelle Italia, Celeste Lee, Caroline Mull, Marlowe Smith, and Sophie Tomasi.
Jenn McKee is an entertainment reporter for AnnArbor.com. Reach her at jennmckee@annarbor.com or 734-623-2546, and follow her on Twitter @jennmckee.