Posted on
Sun, Jan 23, 2011 : 6:03 a.m.
Ann Arbor Civic Theatre's rare staging of 'God Bless You, Mr. Rosewater' nothing to sneeze at
By Jenn McKee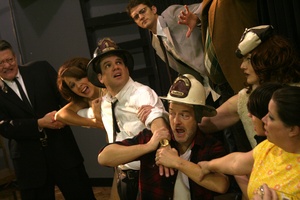 Photo by Tom Steppe
To understand how truly forgotten and rare the musical "God Bless You, Mr. Rosewater" is — despite having music and lyrics by super-duo
Alan Menken
and
Howard Ashman
("Little Shop of Horrors," as well as "The Little Mermaid" and "Beauty and the Beast"), and being based on a story by beloved author
Kurt Vonnegut
— you need only ask
Rob Roy
how the show first came to his attention.
Roy, the Pinckney High School drama teacher who's now directing "Rosewater" for Ann Arbor Civic Theatre, had been searching online five years ago to find a musical for his students to perform. Intrigued by a musical about Walter Mitty, he sent away for the script — only to mistakenly receive "Rosewater."
"I was going to just send it back, but then I saw Menken and Ashman's names attached to it," said Roy. "And I'm a Vonnegut fan. I've probably read everything he ever wrote. So I decided to read (the script)."
And while Roy found the content too adult for his students, he held on to the idea of one day staging the musical with another company.
Vonnegut's story focuses on a man, Eliot Rosewater, who seems to have it all: a powerful Senator for a father; a gorgeous wife; and a job as president of a multi-million-dollar foundation. But he's also haunted by PTSD and guilt; so when Eliot runs away from his charmed life, a young, shyster lawyer steps in to try and take everything away from Eliot.
PREVIEW
"God Bless You, Mr. Rosewater"
Who: Ann Arbor Civic Theatre. Book and lyrics by Howard Ashman; music by Alan Menken; and additional lyrics by Dennis Green.
What: Rare musical based on a Kurt Vonnegut bestseller about a man who seems to have it all: a powerful father in the Senate; a beautiful wife; and a job as president of the multi-million dollar Rosewater Foundation. But the man's also a little crazy, haunted by PTSD and guilt to such a degree that he flees his charmed life. .
Where: Arthur Miller Theater, in U-M's Walgreen Drama Center, 1226 Murfin.
When: Thursday-Saturday at 8 p.m., Sunday at 2 p.m., Jan. 27-30.
How much: $15 for Thursday's performance, $20 for all others (seniors $18, students $10). Info: 734-971-2228 and www.a2ct.org.
According to Roy, the musical "is very much like the book." (Ashman provided the book for the musical version.) But when Roy asked after a cast recording, he could only find a cassette tape of Ashman and Menken performing the songs in a spare concert setting.
"And when you've got songs with four-part harmony, and only two guys singing on the recording, it doesn't really work," joked Roy.
Indeed, this may be a big part of the reason that the show has been lost to time, despite the big names attached to it. "It's never done because there's no cast recording," said Roy. "It just doesn't exist for people to hear it."
The original production played off-Broadway for a month in 1979, but fell victim to a tough economy. "Rosewater" marked the first collaboration of Menken and Ashman, so it focused far more on music than dance; and the team's next show, "Little Shop of Horrors," of course, became a breakout cult hit.
Interestingly, A2CT received a letter from Menken (Ashman died in 1991) regarding its upcoming production of "Rosewater," wherein the Oscar-winning composer enumerated the reasons he was pleased that the show was being produced, which included: "With the recent passing of Kurt Vonnegut, who now joins Howard on the other side, you now have 2 guardian angels looking over your work," and "I love Ann Arbor and am so excited that people there can experience this early work of mine."
Yet since so few people, here and elsewhere, are familiar with "Rosewater," the audition pool was "not large," said Roy. "Yet almost everybody who came out turned out to be just right for the parts."
In a sense, Roy feels as though he's preparing a new show for its world premiere. There's no previous knowledge or expectations on the audience's side, and because there's no established blueprint, Roy has had to find his way blindly through "Rosewater."
"It's one of those things I've been sitting with for five years, though" said Roy. "The recording's always in my car, so I know all the words to all the songs — probably the only one who does — and (the show)'s been percolating in my head all this time. … The biggest advantage to doing an unknown show is that we can do what we want. It's freeing, but it's also like working without a net."
A2CT promotional video for the show: