Posted on
Sun, Dec 2, 2012 : 12:30 p.m.
Ann Arbor Symphony presenting a new tradition: holiday pops concert
By Susan Isaacs Nisbett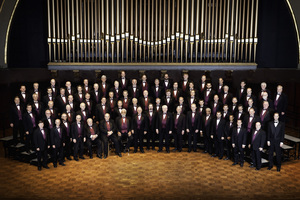 While the Ann Arbor Symphony Orchestra has had a steady gig over the last decades playing Handel's "Messiah" for the UMS Choral Union, December has generally been a quiet time for the orchestra. No more.
Friday evening at Hill Auditorium, the A2SO inaugurates "Holiday Pops," a concert it plans to make an annual tradition.
With the choirs of both Huron and Pioneer high schools on hand to sing in the season, as well as the men's choir Measure for Measure, the orchestra presents an evening of light holiday fare, both choral and orchestral.
"We wanted to do it," said A2SO Music Director Arie Lipksy, "because there is not something like that in our community, a concert in a friendly, family environment that celebrates the holidays with music, joy, and community artistry. It's going to be a lot of fun."
The audience turning out for this new event can expect "all the season's musical highlights," said Lipsky. There will be sugar plums, if not old chestnuts, galore: music from Tchaikovsky's "The Nutcracker" and Humperdinck's "Hansel and Gretel;" not one, but two "Hallelujah" choruses, from Handel's "Messiah" and the composer's "Judas Maccabeus;" Vaughn Williams "Fantasia on 'Greensleeves;" and, of course, Leroy Anderson's "Sleigh Ride"—with a choral component, Lipsky said. And for a touch of Vienna, since New Year's is coming, there's Strauss's "Overture to "Die Fledermaus." And lots more, including visits from Santa and a character new to many of us: Harry Hanukkah.
PREVIEW
"Holiday Pops"
Who: The Ann Arbor Symphony Orchestra, with Measure for Measure and the choirs of Huron and Pioneer high schools.
What: A family-oriented concert of music of the season.
Where: Hill Auditorium, 825 N. University Ave.
When: Friday, 8 p.m.
How much: $10-$40, with special prices for subscribers and discounts for students, seniors and groups; a2so.com and by phone to the A2SO at 734-994-4801.
Lipsky and A2SO Executive Director Mary Steffek Blaske have been working with both the A2SO board, the musicians, and community partners in human services to make tickets available to people who would not otherwise be able to attend without a donated ticket.
"It was very important to us to capture the essence of the season, which is giving and joy," said Lipsky.
"Holiday Pops" is a concert, with some minor audience participation—folks might join in, say, for the Handel "Hallelujah" chorus from "Messiah."
For those seeking a holiday event with more audience involvement, the A2SO once again offers "Sing Along with Santa," Dec. 15 at 4 p.m., at Bethlehem United Church of Christ, 423 S. Fourth Ave. It's a chance to sing favorite Christmas songs, hear "'Twas the Night Before Christmas," have some cider and cookies, meet the man of the hour, Santa himself, and have a family photo (included in the price) snapped with him.
Tickets for Sing Along with Santa ($12, adult; $8,child) are available through the A2SO by phone at 734-994-4801, and online at a2so.com.
USHERS NEEDED: The Ann Arbor Symphony needs volunteer ushers for the Holiday Pops concert. It's light duty and a way to experience the concert for free. Anyone interested may contact Business Manager Lori Zupan (lori@a2so.com) or call 734-994-4801.