Posted on
Sun, Oct 28, 2012 : 5 a.m.
Ann Arbor Symphony to explore Latin flavors at Michigan Theater concert
By Susan Isaacs Nisbett
It's a time of year when sunnier climes begin to have extra appeal, and the Ann Arbor Symphony Orchestra, under the baton of Music Director Arie Lipsky, obligingly grants us a visa to Spain and Latin America Saturday evening, in a bill called "Sabor Latino."
Under that umbrella—or perhaps one should says parasol—what's in store at the Michigan Theater that night are debuts and encores and something sort of in between.
In that neither-here-nor-there category is a work that's decidedly not wishy-washy: Richard Strauss's "Don Juan," a piece that Lipsky has no hesitations about calling "one of the most demanding in the orchestral literature."
"There's no audition for orchestra without some of the runs" in the piece, said Lipsky, "which are unplayable."
Nonetheless, Strauss's tone poem is an orchestra staple, as is another of the Latin-themed works on the bill penned by a non-Hispanic composer: "Bolero" by Frenchman Maurice Ravel.
PREVIEW
"Sabor Latino"
Who: The Ann Arbor Symphony Orchestra, with guitarist Marco Sartor.
What: Celebration of classical guitar music.
Where: The Michigan Theater, 603 E. Liberty St.
When: Saturday, Nov. 3, 8 p.m., with 7 p.m. pre-concert lecture for ticket holders.
How much: $10-$58, with student, senior and group discounts available, A2SO, 734-994-4801, and online at a2so.com.
Popular culture has made "Bolero"—whose theme is subject to "one of the greatest continuous crescendos in all of music," as Lipsky noted—into an iconic work. But the A2SO hasn't contributed to any sort of glut of "Boleros" in recent times. The orchestra last essayed the work in 1988—so it fits neatly into the welcome "encore" category on the bill.
For novelty, though, the audience can turn to a piece that Maestro Lipsky is quite excited about, "Huapango," by the Mexican composer Jose Pablo Moncayo (1912-1958).
Inspired by the popular music of Veracruz, "Huapango," said Lipsky," is a crowd-pleaser.
"The first time I heard this piece," he said, "the audience went wild. I know our audience will love it."
The audience is also primed to love one of the other iconic works on the program, Rodrigo's "Fantasia Para Un Gentilhombre."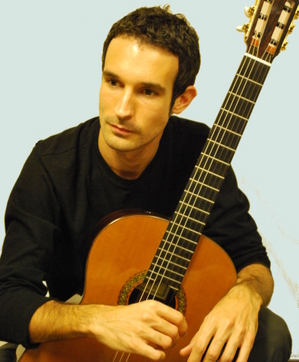 It's one of two works that the evening's guest artist, guitarist Marco Sartor, plays with the orchestra.
Sartor, who hails from Uruguay and is a top prize-winner in numerous international guitar competitions, including the JoAnn Falletta International Guitar Competition and the Texas Guitar Competition, says it's a favorite work—as is the other piece he'll play with the orchestra, the Vivaldi Concerto for Guitar and Orchestra in d minor.
"Both concertos are well-known and much loved by audiences, and by me, " Sartor wrote in an e-mail. "So I am very excited about this opportunity to play with the Ann Arbor Symphony. I never performed two concertos on the same night!"
But that, of course, is exactly what he'll do at this local debut. It's fitting, given the program's subtitle, "A Guitar Celebration."
If two concertos in an evening constitute a new endurance event for Sartor, the pieces themselves are not new for him.
"Now that I have played them for a long time," he said, "I try to keep in mind, and bring out, the elements that first struck me when I encountered the pieces. I am not so much concerned about sounding 'different' than other versions, and I do not see that as a desirable goal. I think it is something which naturally happens as a result of our own—subjective—readings of the music scores. My goal is to portray the musical aspects I find interesting and/or expressive and, although both concertos have been played numerous times, play as if I am premiering them—for 'first-time' listeners."
Familiarity, at least for the performer, does not render either work easy.
"The pianist Arthur Schnabel said that Mozart's sonatas were easy for students, but very difficult for masters," Sartor wrote, "a comment perfectly applicable to the Vivaldi concerto. I particularly like the second movement, with its possibilities for ornamentation (Vivaldi in fact is the composer that equaled the slow middle movements in concertos to the outer fast movements).
"The Rodrigo concerto departs from the traditional three-movement structure, being instead a 'suite; of dances inspired by those by seventeenth-century Spanish guitarist Gaspar Sanz. Also here the clarity and lyricism of the music hide the technical and expressive difficulties of this beautiful work."
Nonetheless, he added, both works are well written for guitar with orchestra, "usually having the guitar appear solo or over a sparse accompaniment." "However," he added, "I think amplification is desirable, not so much for the volume itself, but in order to explore the full dynamic range of the guitar."
These days, Sartor is residing in New Haven, Conn., where he's completing the residency part of his Doctor of Musical Arts at Yale University. But his path to the guitar began in his home country.
"The guitar is the national instrument of Uruguay, and in fact the number of renowned guitarists that such a small country has produced is impressive, to say the least," he said.
"I might have caught the guitar-bug quite early, as my parents remember me as a little kid having a wooden guitar as one of my favorite toys. I wanted a better toy guitar for my 8th birthday, and my parents—just in case!—bought me a real, three-quarter-size instrument. I remember it included eight free lessons (to which I did not want to go at first), and where I met my first teacher, Robert Ravera. I took a few more lessons with him -- for almost 10 years. Before moving to the United States in 2001, I also studied at the School of Music of the University of Uruguay, and took private lessons with the world-renowned guitarist Eduardo Fernandez."
In the U.S., he received degrees from the College of Charleston, studying with Grammy-nominated guitarist Marc Regnier; and from Carnegie Mellon University, studying with James Ferla.
With two concertos on the bill, Sartor plays a starring role in bringing sabor Latino—Latin flavor—to the stage.
"The guitar," said Lipsky, "is an extension of the Latin soul."