Posted on
Sun, Nov 6, 2011 : 5:38 a.m.
Ann Arbor Symphony presenting 'Rigoletto,' 'La Mer'
By Susan Isaacs Nisbett
It's always fun to figure out the logic uniting certain pieces of music on a program. Sometimes it's easy. A composer can be a unifier, the way Beethoven was last month for an Ann Arbor Symphony Orchestra concert—a spectacular one—that brought together the "Fidelio Overture," the Symphony No. 1 and the "Emperor Concerto."
But on a program that brings together Debussy's orchestral tone poem "La Mer" and highlights from Verdi's "Rigoletto"—the fare the A2SO offers its audience Saturday evening at the Michigan Theater—what's the link?
The answer, from the conductor's mouth …
PREVIEW
"Rigoletto"
Who: The Ann Arbor Symphony Orchestra; Arie Lipsky, music director.
What: Verdi's "Rigoletto" (concert version) and Debussy's "La Mer."
Where: Michigan Theater, 603 E. Liberty St.
When: Saturday, 8 p.m., with pre-concert lecture for ticket holders at 7 p.m.
How much: $10-$55, with discounts available for students, seniors and groups, A2SO 734-994-4801 and online at a2so.com.
"What do "Rigoletto" and "La Mer" have in common? Absolutely nothing," A2SO Music Director
Arie Lipksy
wrote in an e-mail. "Perhaps this is the reason I put them together: They are both magnificent masterpieces, however composed in a completely different style."
In a way, Lipsky added, the concert offers the aural equivalent of walking between two adjacent rooms in a great art museum, each with its own focus.
No quarrel there, and listeners should have no problem negotiating the passage between Debussy's watery, Impressionistic canvas of the sea from dawn to dusk and the soaring lyricism and wrenching drama of Verdi's eternally popular opera. His tale of a court jester (Rigoletto) seeking revenge for wrongs done his daughter (Gilda) by the Duke of Mantua and his courtiers has been a hit since it premiered in Venice in 1851. The next morning, it is said, people walked the streets humming "La donna e mobile," an aria for the Duke that would work its way from the streets of Venice into popular culture everywhere. It's not the only such aria in the opera—consider Gilda's lilting, high-flying "Caro nome," for example.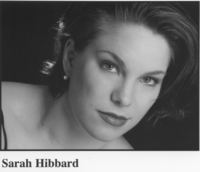 Saturday, the A2SO brings to the stage four excellent singers—
Sarah Hibbard, Lauren Skuce, Vale Rideout
and
Thomas Hall
—to recreate the opera's essential roles. As it has done in other opera-in-concert productions (its ventures have included "Carmen," "Abduction from the Seraglio" and "Magic Flute"), a narrator will stitch together the arias and ensembles for a complete mini-production. In this case, bass-baritone
Stephen West
does the duties, undoubtedly in a most sonorous fashion.
The concert rounds out the A2SO's fall main-stage offerings. The orchestra offers its annual holiday Sing-along with Santa in December before returning to the Michigan Theater with its Mozart Birthday Bash in January; and a "Masterworks" concert in March (Daugherty, Saint-Saens and Tchaikovsky). Hill Auditorium hosts the orchestra's grand "Carmina Burana" finale in April.
For now, though, Lipsky's focus is on the Verdi/Debussy project closest to hand. Lipsky wrote: "I am really looking forward to not only embark on another ambitious A2SO operatic project, but also to create a mysterious and esoteric French sound, all in the same concert."