concert preview
Ann Arbor Symphony opening its season with Beethoven's Ninth in Hill Auditorium
Posted on Sun, Sep 9, 2012 : 5:48 a.m.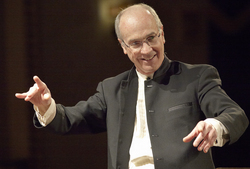 courtesy of the Ann Arbor Symphony Orchestra

The world can always use an ode to joy, not to mention a paean to brotherly love. One such ode—perhaps the best?—will soon be playing at a theater near you, as the Ann Arbor Symphony Orchestra opens its 2012-2013 season with Beethoven's Symphony No. 9 in D Minor. The concert, which also includes Beethoven Contradances for Orchestra and his concert aria "Ah, Perfido!", takes place Saturday evening at Hill Auditorium.

"Let the brotherly love resound," says Maestro Arie Lipsky, adding, with election-year flair, "I'm the music director, and I approved this message."

Lipsky's not running for office—though he was recently reappointed to another 5 year term as A2SO music director—but there's no doubt of his, or the orchestra's, popularity as the new season launches. Subscriptions are at an all-time high, and the orchestra's formula of fine playing, innovative programming, endless outreach and promotion of both local and international talent has earned it a secure and beloved place in a town that has no shortage of fabulous music to attend to.

Saturday's concert, which the orchestra bills as "Beethoven's Ode to Joy ... A Red Carpet Affair," is emblematic of all the A2SO under Lipsky has done to reach that place.

For its season-opening Oscar moment, the orchestra has chosen, as it has periodically over the years, to appear at Hill Auditorium, rather than in its usual Michigan Theater home.

''I think, because we're at Hill, that we can afford to have more chorus," Lipsky said, speaking by phone from his home in Buffalo, N.Y.

The orchestra performed the Beethoven Ninth once under Lipsky, near the beginning of his tenure, at the Michigan Theater. Now, with a little more lebensraum, the chorus—or, more properly, choruses—includes members of the Livingston County Chorale and Women's Chorus and the Carillon Women's Chorale (both making their A2SO debuts) and the men's chorus Measure for Measure.
PREVIEW
Ann Arbor Symphony Orchestra
Who: Local professional orchestra, with chorus and soloists.
What: All-Beethoven program, including the Ninth Symphony.
Where: Hill Auditorium, 825 N. University Ave.
When: Saturday, 8 p.m., with pre-concert lecture at 7 p.m. for ticket holders.
How much: $10-$58, a2so.com or by phone at 734-994-4801. Discounts for students, seniors, groups and community orchestra members.
The soloists, like the choral forces, mix the familiar and the new; they also draw on University of Michigan faculty (mezzo Melody Racine and bass Stephen West, both frequent A2SO partners) as well as singers based elsewhere (American soprano Laura Aikin, who calls Milan (Italy!) home these days; and tenor Tim Culver, a standout in last season's A2SO Hill Auditorium "Carmina Burana").
Aikin, a regular guest at top opera houses around the world, stars in the evening's selection for soprano and orchestra, the Beethoven concert aria, "Ah, Perfido!" This anguished lament of a woman being abandoned by her love is a tour de force emotionally and technically, Lipsky points out.
"I'm so glad Laura Aikin agreed to come do this," he said. "I've worked with her before, and she is amazing."
So, of course, is the aria, which, as Lipsky points out, is the "Beethoven we've come to know, full of contrasts and shifts in mood and drama."
That, however, is the not the Beethoven on display in the "Contradances for Orchestra," early works that are amiable and easy-going.
"The dances are just a light-hearted set full of joie de vivre and humor," he said. "They're so straight-forward and easy to listen to, it's almost hard to believe it's Beethoven."
Beethoven treated them almost as sketches, Lipsky noted: he returned to a number of them in later, mature works, giving them fuller treatment.
But Saturday, it's time for the originals, all 12 of them, a "charming" set, said Lipsky.
And taken together with the concert aria and the towering Ninth, they allow a look at a man who almost could be three different composers.
"They give a fantastic outlook on the different periods of Beethoven," he said.