Posted on
Sun, Nov 15, 2009 : 5:55 a.m.
Anton Nel, Ann Arbor Symphony shine with "Brahms and Friends"
By Susan Isaacs Nisbett
Would Brahms have "friended" Prokofiev or Bizet? Who knows? All I can say is the three got on swimmingly Saturday evening when the Ann Arbor Symphony Orchestra put them together in a program of "Brahms and Friends" at the Michigan Theater.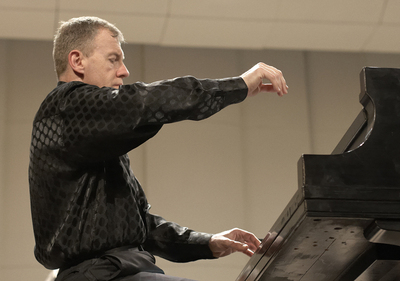 courtesy of the Ann Arbor Symphony Orchestra
Maybe they got on so well because the personal profiles of the works Music Director Arie Lipsky chose were so disparate. There was Prokofiev's "Overture on Hebrew Themes" (loves klezmer music, dabbles in witty accents); Bizet's Symphony No. 1 in C Major (happiest when singing a gorgeous tune, enjoys dancing on air) and Brahms Second Piano Concerto (can be playful, but is also subject to volcanic eruptions and pensive lyricism). And no question about it, they got on so well because the playing was superb all evening - from the orchestra and last and hardly least, from piano soloist Anton Nel.
Nel, a world-class player who was formerly on the University of Michigan music faculty (he is now at University of Texas), was returning to the A2SO for the sixth time. It's not hard to see why he gets invited back so much.
He delivered an almost unbearably exciting, passionate account of the huge and taxing Brahms concerto. A player of visceral power, he brought out all the nobility and dark, Brahmsian brooding of the first movement. The second movement - Brahms' giant "wisp of a scherzo" - was urgent, obsessed.
Anton Nel discusses Brahms and his time in Ann Arbor:
A player of great poetry, Nel also brought out all the open-hearted yearning of the concerto's slow movement, and all the sparkle and lightness of the dancelike finale. He capped all this with an encore that could have made you weep for its beauty, Liszt's transcription of the Schumann song "Widmung." If you need to hear it again - and you might - I found him playing it on YouTube, so go ahead, hear it all over again and remember:
The orchestra did its part, of course, to make the Brahms memorable, playing in great sympathy with Nel and, in the case of principal cellist Sarah Cleveland, setting the autumnal tone of the whole Andante with her opening solo.
There was solo playing to admire in the Bizet, too: Harry Sargous's plaintive, sinuous oboe solo in the Adagio, for example. And great ensemble playing, as well: In the swift opening, the orchestra took off like a rocket, launching itself with such brightness and speed the moment of lift-off happened before you could notice.
The opening Prokofiev was quite charming, with Lipsky and the musicians showing deftly, but not too broadly, how Prokofiev applies a classicizing touch to the "Hebrew" melodies and a Hebraicizing touch to his more classical material. It was the start of an evening that finished in a very different mood but was captivating throughout.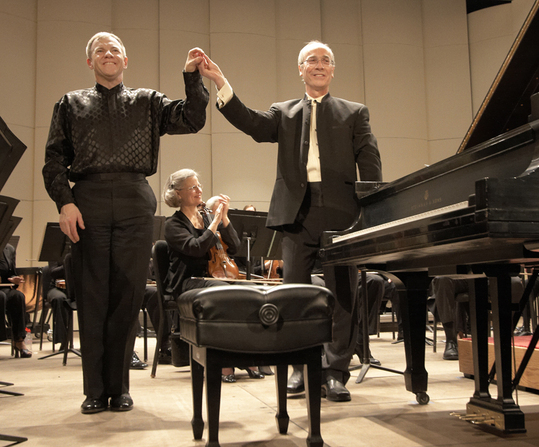 courtesy of the Ann Arbor Symphony Orchestra