Posted on
Tue, Mar 12, 2013 : 5:39 a.m.
Abstract painter Ruth Gilmore Langs shares emotional journey at The Ann Arbor Art Center
By Jennifer Eberbach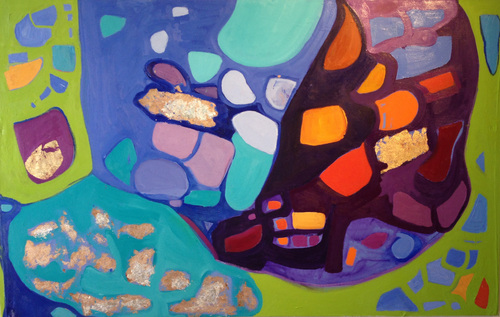 Abstract painter Ruth Gilmore Langs painted her "The MOCEAN Paintings" on hot summer days spent under the shade of a tree at her family's vacation home in the Florida Keys. Although a beautiful and tropical place, the land holds many difficult emotions and memories of her father's bad temper. Scuba diving beneath the waves with her daughter Grace, last August, she found a sense of peace with the land that she did have before.
"Ruth Gilmore Langs: The MOCEAN Paintings," a series of brightly colored abstract paintings inspired by coral reefs, celebrate Langs' emotional growth and personal strength. The paintings are now on display at the Ann Arbor Art Center, with an artist talk set for Thursday.
"It was hard for me to go there at some points in my life," Langs says of her family vacation spot. In her artist's statement about the exhibition, she wrote about a specific memory of a time her father's temper became physically abusive. She found it emotionally tough to be there, even decades later.
But last August, diving beneath the waves with her daughter and then painting on an easel her husband built for her, Langs began to feel differently about the place. Scuba diving with her daughter gave the abstract expressionist vivid colors and interesting forms to paint, as well as a chance to let her own emotions about the place come out.
"The fact that I was able to turn out a body of work on that land is very significant to me. It was about marking my growth as a person. The paintings aren't about the abuse. Rather, I was able to work through enough that I could return to that land and be my best, creative self," Langs explains.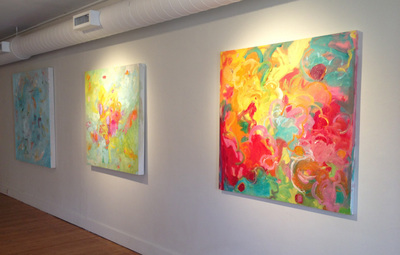 The paintings are very abstract, so much so that you probably would not know they were inspired by scuba diving if I had not just told you. She foregoes realism to paint her impressions of the place—her sense of the colors, textures, feeling of being in the water, and any memories or emotions she feels at the time. She never works from photos, only her own perception and senses.
"MOCEAN" is a word she came up with to describe both "the ocean and emotion," she explains.
"I pay attention to all of my senses. And then I can throw emotion out on the canvas and create energy. You start with a blank canvas and there is no energy there. When you've finished, hopefully you've left your energy there," Langs says.
Exploring abstraction for about a decade, Langs' paintings hang in many private homes and local businesses and have been shown in various exhibitions over her decades long career. A series of large works brighten up the Rachel Upjohn Building, home of the UM Depression Center. She also teaches at the Ann Arbor Art Center and privately.
In the last couple years, Langs has been "responding to my sadness about the recession and other things going on in this country," she says, by painting abstract versions of U.S. maps. With 13 done so far, she is eager to find a place to exhibition them in the future.
For now, she is excited to share her journey in the Florida Keys through her solo exhibition at the Ann Arbor Art Center.
Ruth Gilmore Langs' works are on display through April 7 at the Ann Arbor Art Center, 117 W. Liberty St. The artist will give a gallery talk about the artworks and her artistic process on March 14, from 6:30 to 8 p.m.