Posted on
Thu, Oct 11, 2012 : 11:07 a.m.
'ACTivate the Cure' for breast cancer and learn about Tom Monaghan this weekend
By Ann Dwyer
FUNDRAISER
"ACTivate the Cure" at Greenhills School on Friday. 6 p.m. Variety show: 7-8:30 p.m. The money raised by ACTivate is given to the University of Michigan in support of breast cancer research. The event itself consists of a variety show cast entirely with Greenhills students and staff. As well as an art auction featuring both student and professional work, which ends Oct. 15th. $10; $7 for students. 850 Greenhills Dr., Ann Arbor. 734-769-4010.
FOOD
It's time for the "Annual Pickle Contest and Public Tasting" at Downtown Home & Garden on Saturday. 10 a.m.-1 p.m. Check in for some wild concoctions, because the pickle people are even more serious than the jam makers. Enter by Friday to be in the contest. First prize is a 5 gal. pickling crock, second prize is a Forschner chef's knife, and third prize is a stainless steel heavy-duty box grater. Free. 210 S. Ashley St., Ann Arbor. 734-662-8122.
KIDS
The "Ann Arbor Hands-On Museum's Birthday Party" is this weekend, so bring the kids for special activities. Saturday, 10 a.m.-4 p.m. Sunday, noon - 4 p.m. Celebrate the 30th anniversary with Ann Arbor's premier kid's museum. Admission is free for members and children under two years old; $10 for ages two and up. 220 E. Ann St., Ann Arbor. 734-995-5439.
FESTIVAL
There will be a "Fall Festival at Hack House Museum" on Sunday. Noon to 4 p.m. See apple cider made just like in the old days, early laundry techniques, honey bees at work, fire trucks and classic cars on display and farm animals. Enjoy a hot dog and chips. Pick up some soaps, candles, pumpkins, apples, baked goods or homemade cider. Free admission. 775 County St., Milan.
BOOKS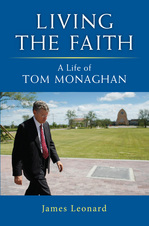 Learn about one of Ann Arbor's most famous residents at "Living the Faith: A Life of Tom Monaghan" at the Michigan Theater on Sunday. 2 p.m. Living the Faith: A Life of Tom Monaghan by Ann Arbor-based freelance writer James Leonard is a sympathetic but critical portrait of one of America's most fascinating and controversial business and religious figures. Advance tickets are available for $5 through
ticketweb.com
. 603 E. Liberty St., Ann Arbor. 734-668-8397.
MUSIC
See Paula Cole perform live The Ark on Sunday. 7:30 p.m. Cole has broken boundaries with a searcher's spirit. From her top ten hits of the 1990s to her more recent critically acclaimed albums, Cole continues to write, produce, record, and perform heartfelt, meaningful, lasting music that defies categorization. $25. 316 S. Main St., Ann Arbor. 734-761-1800.
FOOD
Enjoy local cuisine at Growing Hope's "Chefs in the Garden" dinner at the Growing Hope Center. 5-8 p.m. Chefs Brandon Johns (Grange) and Bona Sera. The theme is Economic Development in Ypsilanti. ather with others who care about the vitality of our community & region, and see how food and agriculture are and can be a part of Ypsilanti's positive future. This dinner will support our Downtown Ypsilanti Farmers' Market and other community revitalization projects. Purchase tickets online at chefsinthegardenoct.eventbrite.com. $45 ($25 is tax deductible). 922 W. Michigan Ave., Ypsilanti. 734-786-8401.