Posted on
Sun, Apr 29, 2012 : 5:59 a.m.
Actor David Paymer recalls Ann Arbor college days - and returning for 'Five Year Engagement'
By Kurt Anthony Krug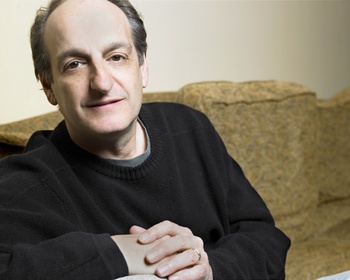 David Paymer
Oscar nominee and University of Michigan alumnus
David Paymer
enjoyed returning to Ann Arbor for the first time in nearly three decades to film "The Five-Year Engagement," which opened Friday.
"It was a treat. I had not been back in almost 30 years. It was like going home again because I have such fond memories of being here. It was an intersection of my past and my present. Obviously, Ann Arbor looks a lot different than it did in the mid-1970s. The blueprint of the city is as I remember it, there are just bigger buildings everywhere," said Paymer, 57, of Santa Monica, Calif.
After transferring to U-M his junior year from the University of Rochester in Rochester, NY, Paymer graduated in 1975 with an undergraduate degree in theater and psychology.
"Ann Arbor was a great place and a great choice because it enabled me to be involved in so many projects and really spread my wings as an actor… And to go to (U-M), which was a much bigger and seemingly much more competitive environment, and still prosper as I did as an actor—and I learned a lot as well—kept making me think that maybe I'm on the right path and should try this out," recalled Paymer.
One of Hollywood's most reliable character actors, he has starred in more than 90 films and 100 television episodes. Some of his prominent roles include Ira in 1991's "City Slickers" and its 1994 sequel, "City Slickers 2: The Legend of Curly's Gold," both starring Billy Crystal.
Paymer was nominated for both an Oscar and a Golden Globe for his role as Stan Young, the brother and manager of Crystal's Buddy Young, a famous comedian/talk show host whose ego and self-destructive nature alienates his loved ones, in 1992's "Mr. Saturday Night" (which Crystal also co-wrote, produced, and directed).
"That really got my passport stamped, so to speak. I was invited to dine at the grown-ups' table," he said, laughing. "It represented a big jump to me, career-wise. Suddenly, Steven Spielberg was calling and I did 'Amistad' for him. Robert Redford was calling and I did 'Quiz Show' for him. Oliver Stone was calling and I did 'Nixon' for him. I had the opportunity to work with all these legendary directors that I wouldn't have had the chance to, otherwise. Billy put me on the map."
When Paymer got the script for "Engagement"—the majority of which is set in and filmed in Ann Arbor, specifically U-M and Zingerman's—he jumped at the chance to return to his alma mater and to work with Jason Segel (TV's "How I Met Your Mother"), who also co-wrote the movie with director Nicholas Stoller, whom he worked with in 2008's "Forgetting Sarah Marshall." "Engagement" is co-produced by Judd Apatow ("The 40-Year-Old Virgin"), Segel's longtime collaborator.
"I loved what Jason Segel's been doing lately as an actor and a writer and a producer. Of course, this is a movie produced by (Apatow). You can't work for a better bunch of people than Judd and his extended creative family, so it was really a no-brainer to go play with them and go back to Ann Arbor at the same time," said Paymer, who plays Pete Solomon, the father of Tom, Segel's character.
The movie opens up in San Francisco where Tom, a talented chef with aspirations of opening his own restaurant, proposes to girlfriend Violet Barnes (Emily Blunt, "The Devil Wears Prada"). However, she accepts a post-doc position at U-M, which derails his career plans and forces the couple to postpone their wedding.
Upon arriving in Ann Arbor, Tom hates it. He can't find a job as a chef (there's a montage of him filing applications at several upscale Ann Arbor eateries) and gets laughed at by several restaurant employees when they learn he left California. The only job he can get is working at Zingerman's. This strains their relationship and their engagement is put off yet again.
"It's a great movie. It's hilarious, it has that raunchy humor that we get with something like 'Bridesmaids,' but it's also a romantic comedy. There's a lot of truth to the difficulties in marriages, in engagements, and how we make the right choices in our lives about who our partners are. It goes a little bit deeper than the raunchiness, but at the same time, it's hilarious," said Paymer. "(Segel) loves improv and does it better than anyone I know. You gotta be on your toes when working with Jason because his mind works so fast and he's so funny… You want to be able to give back as good as you're getting from him."
He continued: "To stroll around and have all these memories of old girlfriends, old friends, plays that I did, and then to be a grown-up and actually doing in Ann Arbor what I was studying in Ann Arbor—which is being a movie actor—and to be back there as a movie actor in a major Universal motion picture, it felt great."