Posted on
Tue, Oct 16, 2012 : 5:09 p.m.
Actor LeVar Burton in Ann Arbor (and apparently enjoying it)
By Bob Needham
Actor LeVar Burton has been spending the day in Ann Arbor and documenting it on his Twitter feed.
He's posted several photos Tuesday, starting with breakfast (from an unnamed source). He tweeted a photo of Dawn Treader Book Shop with the notation "Best bookstore ever," and with a campus photo he wrote, "This place is SO beautiful."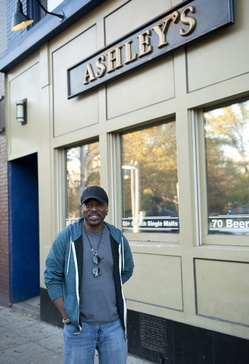 Daniel Brenner | AnnArbor.com
Another tweet reads, "Just spent 3 hours at
Shapiro Library
..." Other tweets included photos taken in Ingalls Mall and Ashley's bar on State Street.
Burton is a major presence on Twitter, with more than 1.7 million followers.
Burton told an AnnArbor.com photographer that he's in town to be a guest lecturer at a film-studies class being taken by his daughter, a student at U-M.
An author and educator as well as an actor, Burton's best-known roles include the landmark TV miniseries "Roots," "Star Trek: The Next Generation," and PBS' "Reading Rainbow."
Photographer Daniel Brenner contributed to this report. Bob Needham is director of entertainment content for AnnArbor.com. Reach him at bobneedham@annarbor.com or 734-623-2541, and follow him on Twitter @bobneedham.