Posted on
Tue, Dec 6, 2011 : 8:33 a.m.
Ann Arbor natives headline 12th annual Poetry Night extravaganza
By Jenn McKee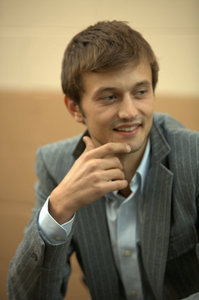 Just as we often hear that theater is dead in America, we also often hear that poetry is dead. Long gone are the days of schoolchildren committing verses of Wordsworth and Frost poems to memory for the purposes of recitation.
But according to Adam Falkner, 27, a Pioneer High School grad ('03) and University of Michigan grad ('07) who will be one of three headliners at the upcoming 12th annual Poetry Night in Ann Arbor, things like the popularity of performance poetry, and the recent, risky (in Falkner's view) appointment of blue collar, Detroit native poet Philip Levine as the U.S. Poet Laureate would seem to affirm that the form is alive and well. (Falkner recently shared the spotlight with Levine at a reading in New York City.)
For Falkner, a life in poetry took root while in Jeff Kass' writing class at Pioneer, despite the former student's initial pull toward music.
"I probably would not have started writing poems, or I never would have found myself invested in poetry to the extent that I am now, were it not for hip-hop as an entry point for me," said Falkner. " … I have a very particular attachment to music, and I remember even my first things I wrote for Jeff, in Jeff's class, were largely built around hiphop. And there are definitely similarities in terms of how I play with language, and a lot of the way that words sound, and the pentameter and the rhythm, and why all of that matters to me I think is rooted directly in my early infatuations and obsessions with hip-hop music."
Initially, using hip-hop as the basis for poems forced Falkner to harness his scattered thoughts into a compact structure; while this was initially liberating, in that it provided him with the means to focus his ideas, he eventually found the constraints too confining. Yet elements from the form—wordplay, sound, how the words fit next to each other—are still evident in Falkner's work, which often examines race. For an example, check out this video of Falkner performing his poem "My Father's Family."
"A lot of the writing that I do currently is about whiteness," said Falkner. "('My Father's Family') in particular is related to not ever being comfortable with what I was told about who I was and where my family comes from. I was doing the math as to why it was better to be left in the dark than it would be to explain what the potential or possibility of that might look like. … It's easy to identify what underprivilege looks like, but that's a very different thing, for example, from identifying what it means to be privileged in this country, and where that privilege comes from."
PREVIEW
Poetry Night in Ann Arbor
What: 12th annual poetry event that features young poets from the Neutral Zone's VOLUME program and collegiate poets from Ann Arbor Wordworks, as well as three headliners who are all Ann Arbor natives: Adam Falkner, Molly Raynor, and Coert Ambrosino.
Where: Rackham Auditorium, 915 E. Washington St.
When: 7 p.m. Friday, Dec. 9; doors open at 6:30 p.m.
How much: In advance, $10 ($5 for students); at the door, $12 ($7 for students). VIP tickets, $35, include pre-show reception (at 5:30 p.m. in Rackham's 4th floor west conference room) with poets and refreshments and the newest Red Beard Press book; $25 VIP tickets are for the reception only. To reserve advance tickets, call Jeff Kass at 734-223-7443 or e-mail a request to eyelev21@aol.com.
Poetry Night's other headliners this year are two of Falkner's Pioneer classmates:
Molly Raynor
, who's founded a youth poetry program in California, where she now lives; and
Coert Ambrosino
, Falkner's close friend from early childhood (and U-M roommate).
According to Falkner, the headliners' friendship "is part of what makes coming back on these terms, and in this context, really exciting."
All three poets had previously been part of the Neutral Zone's VOLUME program, and were co-founding members of Ann Arbor Wordworks, which primarily features performance poets at the collegiate level. (Young poets from both organizations will perform before the headliners at Poetry Night.)
These days, Falkner teaches writing at a public arts school in Brooklyn called The Academy for Young Writers, which emphasizes the importance of writing across the disciplines. And although his own work lives in the world of spoken word poetry, he studies poetry of all stripes, and encourages young people interested in performance poetry to read everything they can get their hands on.
"One thing that sometimes that gets left aside and kicked under the bus is the importance of developing relationships with writing on the page, and how (that and performance poetry) are very symbiotic," said Falkner. "One doesn't necessarily, or shouldn't, in my eyes, exist without the other. … When I started reading, it changed the way that I wrote, it changed the way that I performed, and just gave me a more cerebral understanding for the understanding for how work sounds when it's in the mouth and an audience hears it, versus how it appears on a page, and how those two things ultimately are not exclusive."
Since Falkner's passion was first sparked in a local classroom, it seems only fitting that he now returns to perform with students who may be taking their first steps toward a life of letters.
"In Jeff's class, it felt like, for the first time, at least in high school, I could contain multitudes," said Falkner. "I could be an athlete, I could be in choir—I could be these different things all at once, and they would each fuel one thing I recognized myself as being good at, which was writing. Channeling that into performance was a powerful experience for me."
Jenn McKee is the entertainment digital journalist for AnnArbor.com. Reach her at jennmckee@annarbor.com or 734-623-2546, and follow her on Twitter @jennmckee.