Posted on
Fri, Dec 21, 2012 : 10:02 a.m.
A&E's 'Be the Boss' to feature Molly Maid employees competing in Ann Arbor
By Jenn McKee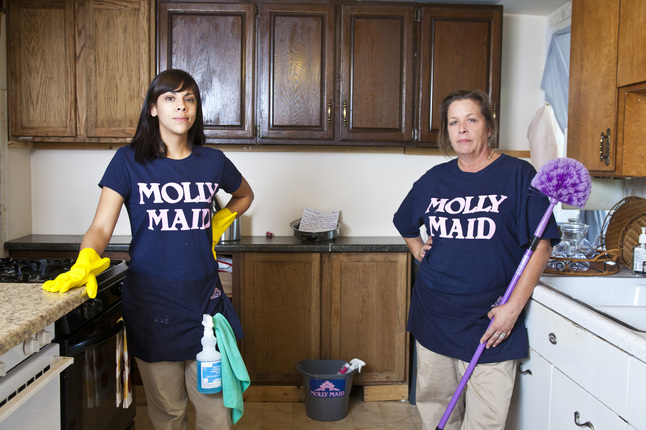 Photo provided by A&E
Molly Maid
—a company with its headquarters in Ann Arbor, and franchises across the country—will be featured on the Dec. 23 episode of the new A&E reality TV show "Be the Boss."
The show plucks two employees from the company ranks and has them perform an intense series of tasks over the course of a few days. And while the employees think they're competing for a senior management position, the grand prize is the keys to his/her own franchise. (Oddly, the Dec. 30 episode of the show also features a local angle, focusing on a Jazzercise instructor from Ypsilanti.)
"People from the show approached us," said Molly Maid CEO Meg Roberts. "It was really flattering and really unnerving, because we didn't exactly know what it was about. They weren't forthcoming about the whole concept until we met in person. … Female leadership in our company was a key component for them. Other companies tended to have more male leadership, and they wanted something different."
According to Roberts, a small camera crew from the show arrived in Ann Arbor this past spring to get a sense of the company, its culture, and its employees. In late May, Roberts learned that Molly Maid had been chosen for the show, and after everything went through the proper channels, filming took place during the third week of August.
Molly Maid's two competing employees—Mariana Lima, a marketing and sales manager from Austin, Texas, and Janet "KC" Brann, an office manager from Stockbridge, Georgia—were selected by people involved with the show, not the company's management.
PREVIEW
"Be the Boss"
What: New A&E reality program that selects two lower-level company employees to compete for the keys to their own franchise. On the episode airing Dec. 23, a pair of Molly Maid employees from Texas and Georgia travel to the company's Ann Arbor headquarters.
When: 11 p.m. Sunday, December 23.
"You have to relinquish some control, and for a Type A person like myself, that's the hardest thing," said Roberts. "You have to put your faith in the producers … But we got lucky. We really liked the two employees they chose."
And ultimately, the competition's winner was determined by Molly Maid management, not the television production team.
"(The production team) definitely had a point of view, so we had some interesting discussions on the last day of filming," said Roberts. "But we had final say. That was an imperative in the 500-page contract we signed. … We have to do what's in the best interest of the company and our people—even if that doesn't make for the best television."
The episode presents a competition consisting of three parts, or "tests," for the competing employees, which Roberts described as an "overly exaggerated training program."
Roberts and her team worked with the show's producers during the month before filming began to determine what these "tests" would be. "We don't just provide cleaning services," said Roberts. "We think of it as providing free time for our customers, who don't want to necessarily think about the service. They just want to get it done. So we thought that maybe a local family in need could use a deep house cleaning. We could help a family that's having a hard time and do something wonderful."
The home selected, in the Clinton area, was "in poor condition," said Roberts. "It wasn't a heavy-use house with small children. It was more like a heavy-use hoarder house. The family was really grateful that we could help them get the house in working order again. But it was a monumental task for two people. Definitely above and beyond the normal circumstances."
The second task, which Roberts called "more fun but also nerve wracking," involved planning a night on the town for a group of active, influential (in terms of social media) local working mothers; and the third test involved having the employees face a panel of dissatisfied customers.
"Usually you deal with customer complaints by phone, one at a time," said Roberts. "For this, we thought we'd throw them in front of these customers to see how they handle pressure when they're face to face."
Molly Maid's management and the "Be the Boss" crew faced challenges of their own—including a helium shortage that made balloons difficult to procure for the contestants' second test. And while one criticism lobbed at reality shows is that they warp reality through editing and re-shoots, Roberts said that for the most part, things that needed "fixing" were minor continuity details.
"It doesn't occur to me to wear the same shirt, so that it appears to be the same day," said Roberts. " … It was more about these kind of mechanical aspects. When they're interviewing you one on one, … they know how to mine emotion, and get you to be more vulnerable. … They know how to get through the dermal layer, and get you to a more human level, andthat's what's appealing. … The people involved are not contrived. The scenarios are embellished a bit, but it's not just a game at the end of day."
Watch AnnArbor.com next week for a preview of the Dec. 30 episode of "Be The Boss," which focuses on an Ypsilanti Jazzercise instructor.
Jenn McKee is the entertainment digital journalist for AnnArbor.com. Reach her at jennmckee@annarbor.com or 734-623-2546, and follow her on Twitter @jennmckee.