Posted on
Tue, May 31, 2011 : 5:47 a.m.
African American Downtown Festival will honor Ann Arbor's history
By Jennifer Eberbach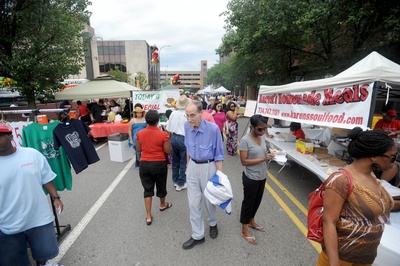 Angela J. Cesere | AnnArbor.com file photo
The annual
African American Downtown Festival
is purposefully held each year in Ann Arbor's Historical Black Business District. During the middle half of the last century, the neighborhood surrounding North Fourth Avenue and East Anne Street experienced a "heyday" as a center for black-owned businesses, social life, and family life in Ann Arbor.
The neighborhood will be celebrating all day June 4, from 9 a.m. to 9 p.m.
People can always visit a plaque dedicated to the late and great Lucille Porter, who founded the festival in 1996, as well as the Community Leaning Post, anytime of year. But the AADF marks a time of year when all of Ann Arbor's black history is commemorated and celebrated.
Event coordinator Teesha Montague, a collections specialist, and entertainment and advertising coordinator Opio Shaah, the chair of the AADF's board of directors and owner of United Sonz Business Solutions, said they hope to see the event continue to grow as a premier cultural event in Ann Arbor.
The daylong festival will feature music of all sorts, dance, a fashion show, a morning "gospel explosion" featuring different artists, and other types of performers that celebrate Ann Arbor's multicultural history. And dozens of vendors and merchants will line the streets.
There will be a "Kidz Corner" for the youngest generation with carnival type activities and a moon bounce, and the kids will do a parade through the festival in the afternoon. If your child wants to participate, they can make construction paper masks and hats at the festival.
In the meantime, everyone else can enjoy their pick of festivities that span generations—from hip hop, to jazz, to pop, to unique vendor opportunities. In charge of booking the entertainment, Shaah looks "to showcase the full spectrum of the community. I try to make sure every pocket of the community is represented," he says.
This year, the festival's theme is "Bridging the Gap, One Generation at a Time," which was in part inspired by a documentary featuring AADF Honoree Joe Dulin—who served as the as founding principal of Roberto Clemente High School for many years and founded National African American Parent Involvement Day. Along with Dulin, the festival will honor other major Ann Arbor figures such as University of Michigan School music professor Willis Patterson, Superior Township Trustee Jean Currie, local entrepreneurial barber shop owner Johnnie Rush, John Barfield of Bartech Associates, and Ann Arbor's late first black mayor Albert Wheeler. Montague's mother Christina Montague, the first African American Chair of the Washtenaw County Commission Board of Directors, will also be honored at the event.
Especially in the '50s and '60s black business owners, professionals who worked downtown, and families "had a strong presence down there," Montague said. Like much of downtown, the district is much more multicultural nowadays. "But you know what? When you get down there you can feel the vibes, and the music is going," she says, "You just feel the energy and you know that they're still there."
Montague reflects on the event, "We're doing it because it's a feel-good event. We're doing this for togetherness and to encourage little black girls and boys. And let them know, hey, you have a history in Ann Arbor and be proud of yourself. It's also about teaching others about our rich heritage and history here. We're bridging the gap between the generations, and we're also bridging the gap between cultures and nationalities," she says. It is really more of a multicultural festival that honors black "trailblazers."
A few highlights from the upcoming festival include a unique vendor that Montague is looking forward to seeing: "We have this African gentleman, Mamado, who cuts the Shea butter straight off with this machete-like thing. And he puts it right into your container. It's raw and natural."
The festival will also feature many other exhibitors and vendors such as the Humane Society, RelaxStation, clothing and jewelry vendors, and more.
Montague and Shaah have had enriching experiences themselves each year they've been involved with the festival. Both are in their 30s, so they were not yet born during the district's "heyday." "A lot of us who are involved with the program weren't there. So it takes listening to some of those in the older generation who come and like to talk about their stories," she says.
For a lot of people, "it's like coming back to their roots when they come to the Historical Black Business District. I've heard stories about how "they remember going down there as teenagers," Shaah says, "and a lot of the older generation is so proud" to see performances by the younger generations.
For more information, see the festival website, www.wix.com/clpfestival/a2africanamericandowntownfestival