Posted on
Wed, Jul 7, 2010 : 5:34 a.m.
Afro-Cuban All Stars promise to light up the Power Center
By Kevin Ransom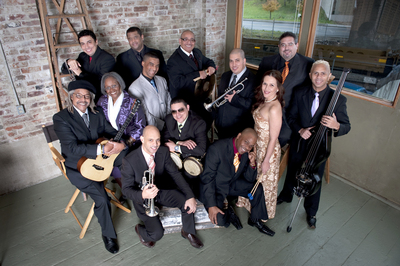 There was a time, following the release of the very popular mid-1990s "Buena Vista Social Club" CD and movie, that Cuban music was quite fashionable among the mainstream audience in the U.S.
But, like most mass-cult trends, that one came and went. However, Juan de Marcos González, who organized that group (with the help of Ry Cooder), has continued to explore and expand upon the traditional music of his native Cuba.
He has mostly done that via his long-running ensemble, the Afro-Cuban All Stars — a band that is one of the finest Cuban music groups one is likely to hear anywhere. González is the All Stars' bandleader, producer and arranger.
The All Stars formed in 1996, at the same time that the "Buena Vista Social Club" album was recorded. Ever since, the rotating multi-generational line-up of virtuoso players has delved deeply into the Cuban-music tradition — but, at the same time, the All Stars have showcased the full range of Cuban music by also adding contemporary styles and new, original compositions to their repertoire. They deftly synergize a wide spectrum of Latin dance music, including mambo, cha cha, salsa, rumba, son montuno, timba, guajira and danzón. Listen to Afro-Cuban All Stars "Africando" (MP3).
"We have to use all the heritage of Cuban music to create a sound of the future," González once said. The group employs piano, bass, timbales, bongos, congas, Cuban percussion, trumpets and trombones to cook up their spicy, sensual, complex and rhythmic musical mix.
PREVIEW
Who: Ensemble of virtuoso Cuban players that is renowned as one of the finest Cuban music groups in the world.
What: Mix of traditional Cuban music with more contemporary styles.
Where: Power Center, 121 Fletcher.
When: Thursday, 8 p.m.
How much: $45, $40, $35, $30. Available online from Tickets.com, by phone at 734-764-2538, or in person at the Michigan League Ticket Office, 911 North University Avenue.
Related event: Panel discussion Wednesday with Afro-Cuban All Stars bandleader Juan de Marcos González and Marc Taras, host of 89.1-FM WEMU's Cuban Fantasy.
As a result, the All Stars — who come to the Power Center on Thursday for an Ann Arbor Summer Festival show — have also become one of the most popular Cuban music ensembles among North American and European audiences. And along the way, many of the band members have become Cuban music stars on their own, like Rubén González, Ibrahim Ferrer, Guillermo Rubalcava, and Manuel "The Guajiro" Mirabal.
"I think the Afro-Cuban All Stars are one of the greatest ensembles ever, in any style of music," says Marc Taras, who hosts the "Cuban Fantasy" radio show on WEMU-FM, 89.1 every Saturday evening. "They play with serious soul and passion, but they also play with amazing technical proficiency.
"Cuban musicians come out from serious music school backgrounds, so anyone who comes through the musical system there will be among the most proficient players in the world. And then whether you make it into this band depends on your individual skills and passion.
"They play a lot of classic pieces and classic Cuban rhythms, but by adding modern production, they also create a really fresh, vibrant sound."
Afro-Cuban All Stars performing "Amor Verdadero" live:
Taras, who co-owns PJ's Records along with his brother Jeff, will be hosting a talk with González on Wednesday at 7 p.m. at the main branch of the Ann Arbor District Library (343 South Fifth Avenue, 734-327-4525).
What makes González such an important figure in Cuban music, says Taras, is not only his skills as an arranger, but that "as the person who is spearheading this group, he's attracted the attention of the world to classic Cuban music."
The genesis of the All Stars can actually be traced back to the early '90s, when the González-led ensemble Sierra Maestra — which specialized in the son style of Cuban music — started receiving more international acclaim. As a result, González was introduced to Nick Gold, president of World Circuit Records — which at the time was a small independent world music label.
González then got the green light to do a project that would celebrate the classic Cuban sound of the '50s. For that project, González was determined to rediscover the neglected stars of Cuba's golden age of music. Actually, the project was to consist of two recordings. For one, he was to put together a Cuban big band, for the other, the group would play more traditional acoustic styles.
So it was, that in March of '96, the ensemble recorded the album "A Toda Cuba Le Gusta," which featured nearly 60 musicians. At the same time, González hooked up with Cooder and recruited well-known Cuban players like Compay Segundo, Omara Portuondo and Eliades Ochoa — and the Buena Vista Social Club was born. They released their self-titled CD in '97, followed by the Oscar-nominated, influential film of the same name, directed by Wim Wenders.
In the last several years, the All Stars have released such recordings as "Live in Japan" in '04, "Step Forward: The New Generation" in '05 and "Baila Mi Son" in '08. And since the late '90s, the All Stars have earned a reputation for ensuring the music's legacy by always welcoming young, up-and-coming musicians into the fold.
González also founded his own independent record label in '02, which has released "A Diario" and "Goza Pepillo" — projects that fuse hip-hop with contemporary Cuban genres. González and his wife Gliceria Abreu also started up a Mexico City-based music production company to promote and produce new Latin American music.
González lives in Mexico, spending most of his time in Mexico City. The other 12 members of the All Stars live outside of Cuba as well, scattered across the U.S. and Europe. Until last year, Cuban musicians who still lived in Cuba were not permitted to tour the U.S., due to the Bush administration's 2003 clampdown on U.S.- Cuba cultural exchanges.
After Barack Obama took office, however, a network of U.S. arts presenters and activists lobbied the Obama administration, hoping to re-open the cultural exchange with Cuba. Those efforts have met with success, says Josh Keller, the All stars' North American manager.
"There has been considerable softening on the cultural exchange policy since Obama become president," says Keller. "In the last year or so, a lot of Cuban bands have been able to come into the U.S. and perform — bands who had not been able to do that for many years."
WEMU's Taras says he found "that whole situation to be really unfortunate. Whatever you think of the (Cuban) economic embargo, something like this is a cultural thing, and should not have been prohibited. This is the land of the free, and it's only right that we should be free enough to be able to see Cuban artists that can be seen in Mexico, Canada and Europe."
Kevin Ransom is a free-lance writer who covers music for AnnArbor.com.