Posted on
Sat, May 1, 2010 : 5:28 a.m.
U-M alumnus Al Milgrom's connection to "Iron Man"
By Kurt Anthony Krug
Allen Milgrom, a freelance artist whose artwork has been featured prominently in the pages of Marvel Comics — particularly the various "Spider-Man" titles, "Incredible Hulk," "Captain America," and "Captain Marvel," to name a few — made a significant contribution to the "Iron Man" mythos but didn't know it until recently.
The artist received a royalty check and a release form from Marvel several months ago in regard to the character, Iron Monger, the armored villain who appeared in the 2008 blockbuster, "Iron Man." Oscar winner Jeff Bridges ("Crazy Heart") played the Iron Monger and his alter ego, Obadiah Stane, while Oscar nominee Robert Downey, Jr. ("Chaplin") played the titular character (and his alter ego, Tony Stark), a role he reprises in the sequel, "Iron Man 2," which premieres Friday.
"I thought, 'The Iron Monger? Who the hell is that?' I went and looked up the Iron Monger character and recognized it then," explained Milgrom, 60, of East Hills, NY. A 1972 alumnus of the University of Michigan, Milgrom and fellow Wolverine Cathy Guisewite, creator/cartoonist of the syndicated, award-winning "Cathy" comic strip, were classmates. It was in the early/mid-1980s that Milgrom was doodling a new suit of Iron Man armor for his own amusement.
"I thought Iron Man's armor should be modernized. I did it of my own recognizance. I wanted him to look a little more tank-like, something more formidable-looking than skintight armor," recalled Milgrom. "I did it as a lark and showed it to Jim (Shooter, Marvel's editor-in-chief at the time), who held on to it."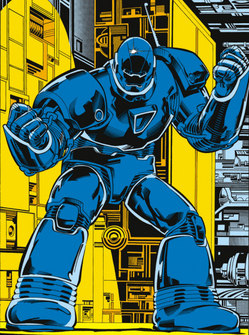 image courtesy Marvel Comics
According to Milgrom, his design wasn't used for future armor upgrades for Iron Man, but was instead used for one of the character's deadliest enemies, the Iron Monger. The Iron Monger debuted in 1985's "Iron Man" No. 200, where Tony Stark became Iron Man again and battled Obadiah Stane, who bought Stark's munitions company out from under him, driving Stark to drinking. Stark became an alcoholic and turned the mantle of Iron Man over to his friend Jim Rhodes (played by Terrence Howard of "Crash" fame in the first film and Oscar nominee Don Cheadle of "Hotel Rwanda" fame in "Iron Man 2").
Stane later hurt Rhodes and captured many of Stark's closest friends, including Pepper Potts (played in both movies by Oscar winner Gwyneth Paltrow of "Shakespeare in Love" fame). Stark donned a new suit of armor, reclaiming the mantle as the armored super hero, and battled Stane, who became the Iron Monger. In the end, after Iron Man soundly defeated the Iron Monger, the latter committed suicide rather than being turned over to the authorities.
Ironically, Milgrom had no involvement whatsoever with that landmark issue. He did not participate in any of the art chores. However, he was acknowledged for his creation nearly 25 years later.
"(Marvel) sent me a surprisingly large check and that got me through some bills I had to pay for several months," Milgrom said, laughing. "I may see more money from that character, which was basically something I did on a lark."
Milgrom's experience with "Iron Man" doesn't stop there. He drew the character in "The Avengers" — a team of super-heroes Iron Man co-founded that consists prominently of Captain America, Spider-Man, Spider-Woman and Thor, among other Marvel characters — and "West Coast Avengers," an "Avengers" spin-off series.
"In the group books, we couldn't do anything too earth-shattering to Iron Man because we had to leave him untainted for his own book," he said. However, that's not to say that what happened in the "Iron Man" title didn't reverberate in the "Avengers," such as his problems with alcohol, in an effort on Marvel's part to keep continuity between its titles.
Milgrom also drew "Secret Wars II," a mini-series in which he drew both Stark and Rhodes as Iron Man. He also served as inker on the "Iron Man" monthly series for a three-issue stint in 1989, where fellow U-M alumnus Dwayne McDuffie served as writer.
"I was just the inker, so I wasn't really involved in the plot," he said. "I was never heavily involved with Iron Man, which is ironic, considering that they used a character I designed for the movie."