Posted on
Fri, Nov 9, 2012 : 4:03 p.m.
Alejandra O'Leary's new music video features fan images of local venues
By Bob Needham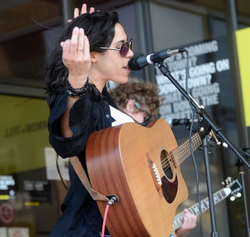 Melanie Maxwell | AnnArbor.com file photo
Rising local musician
Alejandra O'Leary
has released a new video for her song "K.Y.O." that not only showcases the live chops of O'Leary and her band, it also serves as a mini-tour of some of the area's music venues.
"This video for 'K.Y.O.' documents the Alejandra O'Leary Rock n' Roll Band's last two years on the road all over Michigan," O'Leary said in an email. "We put the video together using footage and snapshots taken by our fans at every stop. The soundtrack was recorded live at Groovebox Studios in Detroit."
The recording of "K.Y.O." (which stands for "Knock Yourself Out") comes from a new 5-song EP titled "Live and Raw From Detroit," which was funded by a Kickstarter drive. It's available on O'Leary's Bandcamp page.
Among the sites featured in the video are the Blind Pig, the Tap Room, Woodruff's, the Ann Arbor Summer Festival's Top of the Park series, Crazy Wisdom, and even the AnnArbor.com Summer Concert Series—as well as the Jackson Theater, Plymouth Roc, and Novi's ReelSound Audio, O'Leary said.
How many can you identify? Watch the video here:
"K.Y.O." - Alejandra O'Leary Rock n' Roll Band from alejandra o'leary on Vimeo.
For more on O'Leary, check out her website, or follow her on Facebook and Twitter.
Bob Needham is director of entertainment content for AnnArbor.com. Reach him at bobneedham@annarbor.com or 734-623-2541, and follow him on Twitter @bobneedham.