Posted on
Sun, Mar 24, 2013 : 5:59 a.m.
Alejandro Escovedo talks about latest music ahead of Ark show
By Martin Bandyke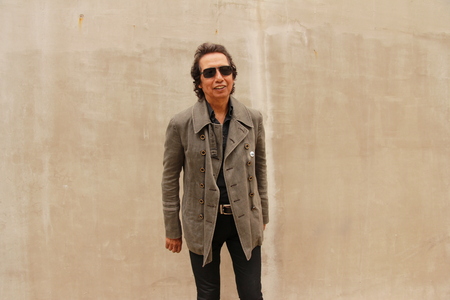 photo by Todd Wolfson
Musical multi-hyphenate
Alejandro Escovedo
has positive thoughts about his upcoming concert in Ann Arbor this Wednesday. "I'm looking forward to it, I love playing
The Ark
," said the Texas native during a recent phone conversation. "It's always been cool." The punk-rocker, roots-rocker and alt-country singer-songwriter was first a member of the Nuns, Rank and File and the True Believers before going solo with the album "Gravity" in 1992. Just last year he issued "Big Station," one of the best studio recordings in his impressive catalog.
A serious bout with Hepatitis C in 2003 led to an outpouring of support for the much-loved Austin resident, including the benefit album "Por Vida: A Tribute to the Songs of Alejandro Escovedo," featuring cover versions done by Lucinda Williams, Steve Earle, John Cale, Calexico, Cowboy Junkies, and many others. Declared free of the disease some 8 years ago and very much back to a busy schedule of touring and recording, the 62-year-old Escovedo visits Ann Arbor after playing gigs and throwing parties last week in Austin during the SXSW Festival.
Q: Congratulations on "Big Station"! I love the mix of musical styles and arrangements on the album.
Ajejandro Escovedo: Thank you. I love the record and had a great time making it. It was kind of a challenge, because I had a new drummer in the band (Chris Searles) and then our guitarist (David Pulkingham) left immediately after making it.
Q: Every original song on the album is a co-write with fellow singer-songwriter Chuck Prophet. How long have you known him?
A.E.: I've known Chuck since the late '70s, early '80s. When he first joined (indie-rock band) Green on Red I was in Rank and File. I've always thought he was a really talented guy, became friends with him and stayed in touch through the years. When we finally got the chance to work together I asked him to collaborate on (the 2008 studio album) "Real Animal." We had such a great time doing it and it was such an easy fit, we're now on our third record together. I love writing with him; he has a completely different kind of angle on the whole perspective, but it always works real well with me. I'm very comfortable with it and that's a rare thing to find.
Q: This is also your third collaboration with producer Tony Visconti, who just produced David Bowie's comeback album The Next Day. What's it like working with him?
A.E.: It's very special because I have always respected his work so much. When I had the opportunity to work with him it was really a treat, and he was such a great guy. The face that we've made three albums together is quite a feat. I love making records with him and I'm also happy he got together with Bowie again, too.
Q: What's the vibe like in the studio with Tony Visconti?
A.E.: He's very into whatever happens organically with a band; he doesn't mess with what's obviously locked in and solid. But he can also be hands-on and very vocal and very encouraging. He creates an atmosphere of experimentation so you feel very loose in there. You feel like you could try anything. There's always a lot of ideas being thrown around and it's very open. I always feel comfortable. He establishes a beautiful atmosphere to work within.
Q: Is it too early to talk about the follow-up to "Big Station"?
A.E.: True Believers are re-forming for SXSW, and then we're going to record some new songs together, so I have to work on some stuff for that project. Chuck (Prophet) and I are talking about working together after that, but we're not looking to record an album until next year.
Q: Who are some of your favorite bands from the Detroit and Ann Arbor area?
A.E.: I love all the late '60s and early '70s bands. Obviously the Stooges, the MC5, the Rationals, early Bob Seger and the Amboy Dukes.
Q: I'm knocked out by how eclectic your tastes are. You must have come from a very cool and musical family. Tell us about that.
A.E.: There was a lot of different types of albums being played in our house. My father loved Mexican music, he loved country music, and my mother was really into big band swing. My brothers liked all the kind of jazzy stuff and pop music of the day. I also had a cousin who was my nanny in a way; she loved rock and roll and turned me on to the Big Bopper, Jerry Lee Lewis, Chuck Berry and all that stuff.
Q: Can you name one album or concert you saw as a kid that made you decide to become a musician? What was the catalyst?
A.E.: I was inspired by Elvis Presley and I loved the Everly Brothers, but I didn't think I would ever do it. It didn't happen until much, much later. I was twenty-four when I first started playing. I wanted to be a filmmaker. We were making a movie about the worst band in the world and since we couldn't play, we became that band!
"An Acoustic Evening with Alejandro Escovedo and the Sensitive Boys" comes to The Ark, 316 S. Main St., at 8 p.m. Wednesday, March 27. Tickets ($25) are available at the Michigan Union Ticket Office, online from MUTO, or at The Ark box office.