Posted on
Mon, Jun 10, 2013 : 1:33 p.m.
All invited to Dexter Library's summer reading kick-off alligator and reptile show
By Ann Dwyer
The Dexter District Library will kick off its summer reading program with a theater performance and live exotic animals. The critters will be in the Farmers Market near the library, so even if it isn't your library, you can go check them out.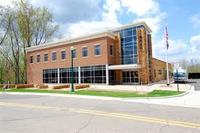 Critchlow Alligator Sanctuary will bring alligators, snakes, turtles, lizards and other reptiles and amphibians. David Critchlow will be on hand to answer questions. Everyone is welcome.
Dexter Library users will get the opportunity sign up for the summer reading program at the library. Kids can enjoy a theater performance of "Readers of the Lost Book" by Acting Up Theater.
In the play, Michigana Jones is on a big dig for the very first library book. But what he finds instead is a wise talking, pun-making mummy, a dinosaur (of sorts) and an ordinary bookworm.
Friday, June 14, 2013. Program kick-off: 11 a.m.-Noon. Reptiles: 11:45 a.m. to 12:45 p.m. Free. The DDL is located at 3255 Alpine St., Dexter. 734-426-4477.