Posted on
Sat, Jun 29, 2013 : 5:37 a.m.
Mali's Amadou & Mariam bring their joyful world music sound to Power Center Tuesday
By Roger LeLievre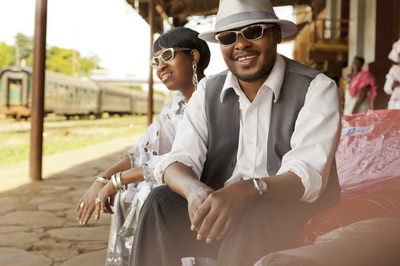 World-music superstars
Amadou & Mariam
, affectionately know as the "Blind Couple from Mali," will bring their infectious fusion of Malian blues, rock, pop and traditional West African music to the Ann Arbor Summer Festival Tuesday night.
The couple met in the orchestra of The Institute for the Young Blind in Bamako in 1977, married in 1980 and began their musical partenrship in 1983. More recently, collaborations with French singer Manu Chao, dance-club hitmakers Scissor Sisters, and stadium tours opening for big-name acts such as U2 and Coldplay have spread their music far beyond the boundaries of their native country.
"Everyone said it was magic," Amadou Bagayoko (guitar and vocals) told Newsweek when asked about their early courtship. The magazine also called them the "coolest 50-something married couple" and wrote "they may also change the way we think about sight."
PREVIEW
Amadou & Mariam
Who: World-music superstars, presented by the Ann Arbor Summer Festival.
What: A fusion of Malian blues, rock, pop and traditional West African music.
Where: Power Center, 121 Fletcher.
When: 8 p.m. Tuesday, July 2.
How much: $20-$35. Info: www.a2sf.org or (734) 764-2538
After releasing their breakthrough album, 2005's "Dimanche a Bamako" (and its catchy single "Senegal Fast Food"), they continued to successfully build on the rhythmic foundations of African blues-rock, Western pop and funk.
Amadou & Mariam's eighth CD, "Folila," with guests such as Santigold, TV on the Radio and Yeah Yeah Yeahs' guitarist Nick Zinner, was released last year. The title means "music" in their native Bambara language. The duo recently released "Mali Meets Latin America," a digital remix EP of four of the tunes from "Folila," and kicked off their current U.S. tour at the prestigious Bonnaroo Music and Arts Festival.
"We're super excited to have Amadou & Mariam on the season," said Summer Festival Executive Director Robb Woulfe. "They've played major festivals all over the world and we are thrilled to finally be able to bring them to Ann Arbor.
"I think audiences are going to fall in love with their charm, warmth and versatility. This duo radiates joy—joy in their music, joy in their stories, and joy with each other," he said.