Posted on
Thu, Jul 25, 2013 : 1:07 p.m.
'American Idol' finalist Casey Abrams offers tunes from debut album at The Ark on Monday
By Roger LeLievre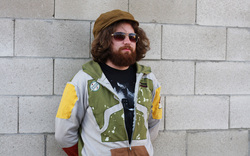 If the name
Casey Abrams
rings a bell, it might be because he was an "American Idol" finalist in 2011. The 21-year-old singer, songwriter and multi-instrumentalist, who finished in sixth place, plays at
The Ark
Monday.
He recently released his self-titled debut album, on which he co-wrote, sang, and played bass, acoustic guitar, drums, Wurlitzer and recorder.
Born in the musical hotbed of Austin, Texas, Abrams' childhood home resonated with the music of the 1950s and '60s. Even then, he recalls on his website, he was "hearing those blues riffs and little things that make a song what it is."
Abrams tried out for "American Idol" in Austin. "I had a heart attack when they chose me," he says. "I was like: this is the ticket. As soon as I got that foot in the door I knew I could make it. I was so happy."
Although he didn't go all the way on "Idol," Abrams vows he's here to stay. "I want to make music that people love," he said.
Casey Abrams plays at The Ark, 316 S. Main St., Monday, July 29 at 8 p.m. Tickets are $20. Details at www.theark.org or 761-1800.