Posted on
Tue, Sep 10, 2013 : 5:58 a.m.
'America's Got Talent' contestant and Saline resident Sean Panikkar sizes up Tuesday's competition
By Jenn McKee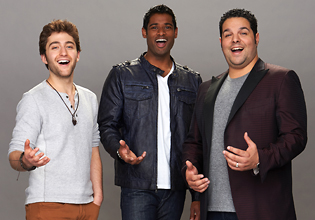 NBC
U-M grad and Saline resident
Sean Panikkar
, a member of the male opera trio
Forte
, will perform again on
"America's Got Talent"
on Tuesday, September 10 at 9 p.m. on NBC.
Only 12 contestants remain in this season's competition, and viewers can vote – via phone, Twitter, or AGT's website – for their favorite performers following Tuesday night's episode. Finalists, who will compete on September 17 (which happens to be Panikkar's birthday), will be announced on Wednesday, September 11, during an episode scheduled to air at 9 p.m.
Though Panikkar spent much of Monday in AGT rehearsals at New York City's Radio City Music Hall, he emailed responses to a few quick questions from The Ann Arbor News.
Q. Did you and your Forte compatriots take it as a good sign that you were slotted last in your semifinal round 2 weeks ago? (It seemed like producers were building up to Forte's performance.) A. In watching the previous rounds of the shows, we had figured out which slots were more likely to advance than others. In the past rounds, the final slot was one of the "power" positions, so we were really happy with where we were. The positive is that we are the last act that people see before they can vote, but the down-side was that we had to sit and wait for the entire show before singing. Since we are being taped in the Snapple room, we can't warm up as we normally would, so we literally sit for hours and then walk onstage cold. That isn't the ideal situation for singers, but the adrenaline kicks in when you are in front of millions of people, and somehow it comes together. We don't know where we are slotted in the show tomorrow, but we feel like the position in the show is really secondary to how we sing.
Q. Do you get more performance time in the later rounds, or are you limited to 90 seconds throughout the competition? A. We always have 90 seconds, give or take a few seconds. It's one of the things that people at home don't always realize, but we are trying to pack in as much as we can in that short period of time. It really is hard to find songs that work in that format without losing the essence of the original.
Q. Which contestants have most impressed you during the course of the competition? Who do you see as your main competition? A. People assume that we are competitive with the other singers, but that really isn't the case. At this point, there are 12 acts left, and there is a reason that they have survived all of the cuts. The show started out with 75,000 auditionees, so at this level, everybody is extremely talented. We all have such varied talents and unique qualities that we really just admire and appreciate what everybody does rather than being competitive. We all get along, and we are sad to see people go home when they do, but this is a competition.
Q. Are you planning to perform/tour as Forte after this competition, regardless of the outcome? A. When the group initially formed, the hope was that this would last past the show. We are still hoping that Forte is viable post-"America's Got Talent," and it would be nice to get to the finals and continue getting the enormous exposure the show brings. In the finale, you perform three times, so it is much different than the earlier rounds. A lot of things can't be discussed, in terms of recording, until after the show is finished, so we won't know anything definitive until after the finale. We would love to record and tour if possible. There is an AGT tour scheduled, but we don't yet know who is being invited, or for which dates each act will be performing.
Jenn McKee is an entertainment reporter for AnnArbor.com. Reach her at jennmckee@annarbor.com or 734-623-2546, and follow her on Twitter @jennmckee.