Posted on
Tue, Aug 27, 2013 : 11:09 p.m.
'America's Got Talent' recap: Saline resident's group Forte scores with 'Unchained Melody'
By Jenn McKee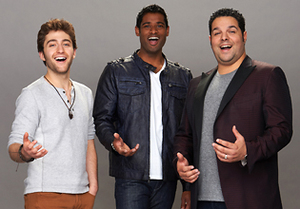 Saline resident and U-M grad
Sean Panikkar
, along with fellow
Forte
singers
Josh Page
and
Fernando Varela
, made a pretty convincing argument for America's votes on Tuesday's night's episode of
"America's Got Talent."
And if the singing trio is in fact voted through to the next, quarter final round of the show - which is scheduled to air on Tuesday, September 10 - they can credit their polished performance of "Unchained Melody" on Tuesday night, but they might also, perhaps, have the strong advocacy of AGT judge Howard Stern to thank.
"From the opening notes, you had me," said Stern after Forte's performance, which wrapped up the two hour show. "Now that's the sign of true professionals. This is what we've been waiting for. It's been a very strange night. I'm going to say that the pressure of the semifinals has gotten to everyone, but you guys and (singer Cami Bradley), probably. Aside from that, everyone was just a little bit off. But you guys consistently come out here, you know how to perform, you know how to move an audience, you know how to pick a song. … It was beautiful. Congratulations."

Forte, 1st Semi-Final performs ~ AGT 2013 Live by HumanSlinky
Tuesday night's line-up of semi-finalists included 3 judges' "wild card" picks: rapper Tone the Chiefrocca (chosen by Mel B); acrobat Red Panda (chosen by Howie Mandel after one member of an acrobat duo was injured during rehearsal); and dancer/acrobats Duo Resonance (chosen by Heidi Klum).
The remaining 9 contestants, who earned their spot via audience vote, were comedian Angela Hoover; magician Collins Key; a young gymnastics team called Innovative Force; singer Dave Fenley; comedian Taylor Williamson; singer Jonathan Allen; multimedia dance troupe Catapult Entertainment; singer Cami Bradley; and Forte.
Often, reality show talent competitions schedule the act that producers consider to be the strongest contender at the end of the program, and that clearly seemed to be in play during Tuesday evening's episode of AGT. Every act seemed to be building up to the Forte finale.
"Wow, wow and wow," said Heidi Klum after Forte's performance. "That's all I have to say. So good. Loved it."
"You solidified yourself a place in the quarterfinals, … and maybe solidified a career for yourselves," Mandel said.
Even Mel B, who'd been lukewarm about Forte in previous rounds, said, "I've changed my mind. I really bloody like you."
Fans can vote for Forte by calling 1-866-60-AGT-12, or by visiting AGT's website, or via Twitter (#voteAGT Forte). The results will be announced on the AGT episode scheduled to air on Wednesday, August 28 at 9 p.m. on NBC. 6 of the 12 acts that competed on Tuesday night will advance to next round of competition.
Jenn McKee is an entertainment reporter for AnnArbor.com. Reach her at jennmckee@annarbor.com or 734-623-2546, and follow her on Twitter @jennmckee.