Posted on
Tue, Mar 19, 2013 : 10:51 a.m.
Unique double bill to feature 2 sides of Iraqi music
By Kevin Ransom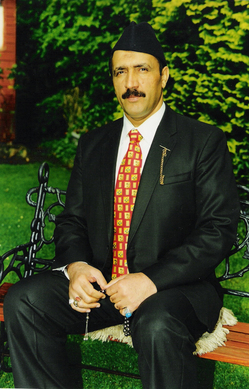 Local aficionados of Middle Eastern music will be treated to a unique cultural experience on Saturday at Hill Auditorium: the first-ever double bill presenting
Amir ElSaffar
's acclaimed Two Rivers Ensemble along with Hamid Al-Saadi and the Iraqi Maqam Ensemble.
Trumpet player / composer ElSaffar leads the Two Rivers group, and he also plays santoor (an Iraqi hammered dulcimer) and provides backing vocals in the Iraqi Maqam Ensemble.
Maqam is traditional Iraqi music, so the opening set by Al-Saadi's ensemble will be strictly devoted to that traditional style. But ElSaffar's Two Rivers group has created a heady, unique, innovative integration of Maqam and jazz. The show is being presented by the University Musical Society.
ElSaffar, 35, is a Chicago-area native, born to an Iraqi immigrant father and American mother. He began playing the trumpet at age 10, and was getting professional gigs—performing jazz, classical and R&B—by his late teens. He earned a degree in classical trumpet from DePaul University in 1999, then moved to New York, where he made a name for himself in NYC jazz circles, performing with the likes of Cecil Taylor, Rudresh Mahanthappa, Vijay Iyer, and Daniel Barenboim, and winning two international jazz competitions.
But in 2002, he began to feel the pull of Maqam, the evocative traditional music of his father's culture. He put his jazz career on hold, and traveled to Iraq, to other Middle Eastern countries and even to Europe, learning Maqam from masters of the tradition, which is mostly an oral one.
PREVIEW
Amir ElSaffar's Two Rivers; Hamid Al-Saadi and the Iraqi Maqam Ensemble
Who: A double bill that pairs a traditional Iraqi Maqam music ensemble with a group that integrates Maqam and jazz.
What: Al-Saadi's Ensemble will perform a set of Maqam music, followed by ElSaffar's Two Rivers group, which has created a unique hybrid of Maqam and jazz.
Where: Hill Auditorium, 825 N. University Ave.
When: 8 p.m. Saturday, March 23.
How much: $24-$38. Tickets can be purchased by calling 734-764-2538, in person at Michigan League Ticket Office, 911 N. University Ave., or online.
That's when he learned to play the santoor and to sing the Maqam style. He was immersed in that tradition for five years, before he began exploring how he could mingle Maqam tonalities and rhythms with jazz. He's released three albums of this complex, intricate and harmonically sophisticated musical hybrid since 2007—the most recent being "Inana" in 2011. The album was named after the ancient Mesopotamian goddess of carnal love and warfare.
On "Inana," he also began using new techniques he'd created that enable him to play microtones and ornamentations that are common to Arabic-music idioms, but are not generally heard on the trumpet.
"This will be very exciting, to have the two groups playing on the same bill," says ElSaffar. "That way, the audience can first hear the traditonal Maqam music, so, later, they will recognize those elements when they hear the Two Rivers enemble take that music and combine it with jazz."
When he first began immersing himself in the Maqam tradition, "my initial goal was to eventually create this new form that drew on both Maqam and jazz," he says. "I didn't really expect to be able to perform strictly Maqam music on its own. But I got many more opportunities to do that than I anticipated, so I ended up spending five years in that world."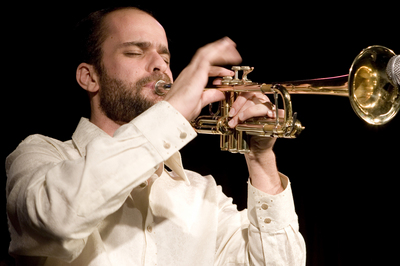 He also never anticipated being drawn to Maqam when he was growing up and studying jazz and classical music. "I didn't feel a strong connection to Iraqi culture, and I didn't speak the language, when I was growing up. But I reached a point, a few years after graduating, where I felt a strong pull to connect with that aspect of my heritage—to go on that journey and discover those roots," says ElSaffar during a recent phone interview from New York City.
"And once I immersed myself in it as much as I did, I developed a real reverence for the tradition."
ElSaffar faced some challenges as he transitioned from playing straight Maqam to creating the Maqam / jazz hybrid.
"The first hurdle for me personally was getting past this unwillingness I had developed, by that time, to do anything else outside of he tradition," concedes ElSaffar. "After five years of studying it so intensely, I didn't feel a need to mix it with anything—it seemed perfect the way it was. I was content to just stay within the tradition—it seemed sacred or holy in a way.
"But, as I continued contemplating the melodies, I found connections, both melodically and rhythmically—I discovered that it shared some sensibilities with jazz, and I found a point of harmony between them."
Assembling the Two Rivers ensemble was also a challenge, says ElSaffar. Eventually, he was able to find the right mix of players from different musical and cultural backgrounds. "The bass player is Italian and Puerto Rican; the drummer is African-American; the sax player is Indian, and he'd been playing both Indian music and jazz; and the other two (who between them play the oud, violin, dumbek and buzuq) are Arabic musicians who'd been playing Egyptian and Lebanese music.
"So, everyone was coming from a different musical language, and that mix of backgrounds was very helpful, as they were learning to play this combination of jazz and Maqam."
As for the future, ElSaffar says he sees himself "going in both directions: I'll do jazz albums and shows that don't incorporate Maqam, but I will also keep composing and performing music that strictly draws from traditional Maqam melodies."
Kevin Ransom is a freelance writer who covers music for AnnArbor.com. He can be reached at KevinRansom10@aol.com.