Posted on
Wed, Sep 11, 2013 : 9:16 a.m.
Amy Dixon-Kolar brings her 'Rosa Sat' and other tunes to lucky Friday gig at Crazy Wisdom
By Roger LeLievre
Even though Friday the 13th is coming up, Chicago singer/songwriter Amy Dixon-Kolar is convinced that will be a good day for her. She makes her debut at Crazy Wisdom that night.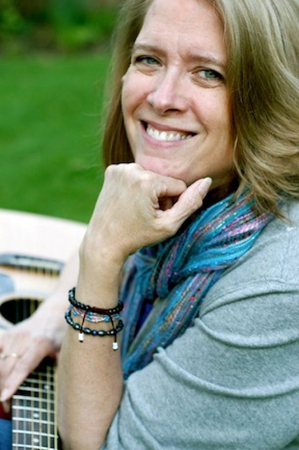 Courtesy photo
Dixon-Kolar is a seasoned singer-songwriter whose music and lyrics, distinctive vocals and fluid guitar playing bring a new perspective to the everyday. She performs mostly acoustic folk music - original, traditional, contemporary and Celtic. Her songs have been recognized in songwriting contests and by organizations from across the globe, and her music has been played on many folk radio programs as well as hundreds of indie Internet stations around the world.
In January 2009, she was invited to participate in the celebration of President Obama's inauguration by singing her song "Rosa Sat - a Song for Barack Obama" on Chicago's NPR station, WBEZ.
"Rosa Sat" has gone on to become a YouTube hit, receiving well over a quarter-million hits since it was posted, and is now being sung by choirs, social justice groups, at folk music gatherings, and in schools around the world.
She also has a new CD out, "Dancing Through the Storm."
By the look of it, Dixon-Kolar has had quite a run of good luck lately.
Amy Dixon-Kolar plays at Crazy Wisdom Tea Room, 114 S. Main St., Friday, Sept. 13 at 8:30 p.m. Admission is free. Details at www.crazywisdom.net or 734-665-9468.