Posted on
Fri, Nov 4, 2011 : 5:17 a.m.
AnDa Union bringing music of Mongolia to the Michigan Theater
By Susan Isaacs Nisbett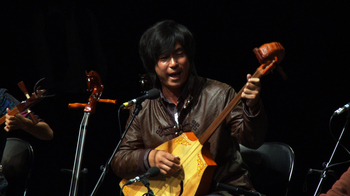 You could say that the members of AnDa Union are on a rescue mission: to preserve the traditional music of Inner Mongolia before the songs and melodies and even the instruments, like the horse-head fiddle, become mere artifacts of a long, extraordinary nomadic past in the region's vast grasslands and mountains. It doesn't take much to convince listeners to support the mission. The instrumental music and the vocal music—principally throat, or overtone, singing and a form called "long song," that stretches sentences out over minutes—are rhythmically exciting and instantly arresting and appealing. That's what the Ann Arbor audience is likely to discover when the 14-member group arrives in town for a Wednesday evening Michigan Theater concert under University Musical Society auspices.
PREVIEW
AnDa Union
Who: 14-member ensemble.
What: Traditional music from Inner Mongolia.
Where: Michigan Theater, 603 E. Liberty St.
When: Wednesday, 7:30 p.m.
How much: $18-$42, UMS Ticket Office in the Michigan League, 734-764-2538, and online at ums.org.
The group's U.S. concert tour takes its members new places—many had never seen a beach, which a Florida stop afforded them—and takes audiences on a journey as well. The tour, their first nationwide in the United States, came about through a captivated listener,
Tim Pearce
, a filmmaker who heard them six years ago in Shanghai and decided he wanted to work with them.
"I hopped a train and spent about a week with them. I recorded their music, and got them tours of the U.S.," said Pearce, who is traveling with the group. He also made a documentary film about them this year, "AnDa Union: From the Steppes to the City" which UMS screens at 7 p.m. Tuesday at the University of Michigan Museum of Art.
"AnDa" means blood-brother or blood-sister, and it implies a chosen relationship stronger even than that of siblings by birth. A number of the group's members actually knew each other and played together from adolescence; they met the rest of their blood-brothers and -sisters when they went to Hohhot, the capital of Inner Mongolia Autonomous Region (of China) to study music. The group formed in 2000. What makes the group unusual, beyond its mission, is its membership combines the traditions of many different tribes and peoples within Mongolia. For example, said Pearce, one of the singers is a Buriat, a people from the Northeastern corner of Mongolia, near the Russian border. "Each area has different customs," said Pearce, "and it's quite interesting to hear their different musical styles." Another innovation of the group is simple its nature as an ensemble. Far more common, in home settings, said Pearce, is one person playing, say, the horsehead fiddle and another singing. "They combine the instruments into an orchestra," he said. They also, he added, are expert at transferring their native musics from yurt to stage. "To take that to a theater and put that over to an audience, that's what they're really good at," he said.
Visit ums.org for a complete list of related events. Most directly connected is a screening of Spohie Lascelles and Tim Pearce's documentary, "AnDa Union: From the Steppes to the City," at the U-M Museum of Art, Tuesday, 7 p.m. The screening is free and open to the public.