Posted on
Tue, Aug 20, 2013 : 10:47 a.m.
Angela Predhomme, Bob Marshall team up for Crazy Wisdom show Saturday
By Roger LeLievre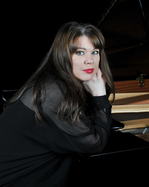 If you like your music in the style of Sara Bareilles, Sheryl Crow or Norah Jones, then singer/songwriter
Angela Predhomme
, Saturday night at Crazy Wisdom with poet, storyteller and cowboy Bob Marshall might just be the right gig for you.
Predhomme is from Plymouth and earned her undergrad and graduate degrees from Eastern Michigan University. She currently lives near Pinckney.
She has a new CD coming out in September, and promises to offer some of the new tunes at Crazy Wisdom. "You'll hear a variety of styles on this album, from light, fun and catchy, to a rock song, to a few slow soulful songs," Predhomme says.
After spending years as a police officer and a professional rodeo cowboy, Marshall has had the opportunity to see a wide spectrum of life and uses those experiences to write his songs.
"I've known (Marshall) for several years from a songwriting group," Predhomme says, "and I think he's very talented. I like his style a lot. … It's always a pleasure to hear Bob."
"For the show, I'll probably go first, then Bob. We'll likely do a song or two together, too," Predhomme adds.
Angela Predhomme and Bob Marshall play at Crazy Wisdom Bookstore and Tearoom, 114 S. Main St., Saturday, Aug. 24 at 8:30 p.m. Admission is free. Details at www.crazywisdom.net or 734-665-2757.