Posted on
Mon, Jan 28, 2013 : 5:04 a.m.
Angelique Kidjo bringing her unique musical style to Hill Auditorium
By Will Stewart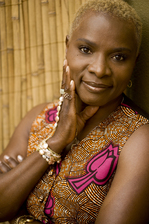 Angelique Kidjo
is that rare artist whose performances allow fans to exercise both their bodies and their minds.
The Grammy-Award-winning West African singer's concerts are as popular for Kidjo's unrelenting energy and movement as they are for her insistent messages of peace, love and understanding.
All of which will be on full display when Kidjo and her band arrive at Hill Auditorium for a University Musical Society-sponsored performance on Feb. 1.
So bring both your thinking cap and your dancing shoes, because Kidjo's enthusiasm—as well as the message in her music - is infectious.
Kidjo's visit to Ann Arbor comes at a high point, even amid a decades-long career that's been full of highlights. Last summer, she performed at the opening ceremony for the Summer Olympics in London. And she's on the heels of the release of her first live album, recorded with saxophonist Branford Marsalis, Vampire Weekend's Ezra Koenig and singer Dianne Reeves.
Given the legendary electricity of her live performances, it might seem surprising that "Spirit Rising," while her 10th release, is Kidjo's first live record.
But it shouldn't said Kidjo, who admits to being slow to catch onto trends.
"I am always doing things when it is out of fashion," she recently told the BBC World Service. "When I am inspired to do something, I am inspired by the moment."
Part of her hesitation, she said, was the knowledge that her live show would be difficult to capture on tape.
"From experience, I know what you see onstage you can't give back on an album," she said. "So I had to find the people to do it with and the right way to do it."
The result is quite an affair, combining not only Marsalis and Reeves, but also bassist Christian McBride and pianist-singer, Josh Groban.
PREVIEW
Angelique Kidjo
Who: World-music star and activist from Benin.
What: Unique blend of the sounds of African music, jazz, folk and more.
Where: Hill Auditorium, 825 N. University Ave.
When: 8 p.m. Friday, Feb. 1.
How much: $10-$46. Tickets available from ums.org or by phone at 734-764-2538.
Among many highlights are Reeves, Marsalis and Kidjo joining forces to reinvent the Rolling Stones' "Gimme Shelter" as a world-beat showstopper, which finds Kidjo and Reeves trading verses an otherworldly display of vocal prowess.
"Dianne is an artist who really knows her roots in Africa," Kidjo said.
The record also captures Kidjo's own elegant take on Bob Marley's "Redemption Song," which Reeves also performed during her UMS concert at Hill Auditorium last fall.
She said it was Marley who first opened her eyes to the human rights struggle, something she has dedicated much of her life—both on and offstage.
In addition to being a longtime UNICEF ambassador, Kidjo is the co-founder of the Batonga Foundation, which provides schooling and tutoring to girls and young women throughout Africa.
"I know who I am and what I have to give to my continent," she said. "The task is great, but one thing we have is community, empathy and compassion.
"If we do not learn about sharing, this world is going to collapse."