Posted on
Tue, Sep 20, 2011 : 8:12 a.m.
Joan Painter Jones' assemblage a true best of show at Ann Arbor Art Center's 'Annual'
By John Carlos Cantu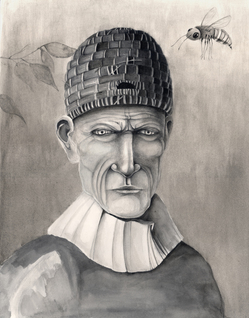 This year's Ann Arbor Art Center "Annual: All Media Exhibition" confirms what we've known for a long time: Milan's
Joan Painter Jones
is an artist for all time.
The juror of this year's 89th exhibition is Rebecca Mazzei, deputy director at the Museum of Contemporary Art Detroit. Mazzei, former assistant dean of Detroit's College for Creative Studies and former director of Chicago's Intuit: the Center for Intuitive and Outsider Art, has significantly reduced the number of works accepted for this year's all-media exhibition. Instead of the typical 40 talents (out of 4,000 eligible Michigan artists) that usually make the "Annual's" cut, Mazzei's accepted only 20 works by 18 artists.
This might seem to be spreading things a bit thin; but paradoxically, this strategy gives the exhibit an expansive touch, because each artwork has plenty of space to breathe.
The Art Center members who have made the 2011 grade are Carolyn Reed Barritt, Patrick Blakemore, Yuling Chuang Bruya, Natasha DelCid, Cynthia Foley, Rosita Gendernalik, Howard Haarer, Cathy Jacobs, Joan Painter Jones, Ann McDonald, Robert Park, Gloria Pritschet, Lisa Sieczka, Bruce Thayer, Elijah Van Benschoeten, Thomas Walsh, and Mary Williams.
Mazzei's choices for distinction are a varied group. There's no single thread that runs through the prize-winners except that each artist has crafted an excellent work of art.
And this is certainly the case with her choice for best of show. Joan Painter Jones earned First Prize for her wood, wheels, and metal "Changing Chair" assemblage.
Second Prize went to Ann Arbor's Carolyn Reed Barritt for her "The Beekeeper" watercolor painting. Third Prize went to Cadillac's Cynthia Foley for her mixed-media on paper "Half Walrus." And Honorable Mentions were earned by Chassell's Ann McDonald for her "Venetian Mask" oil on canvas board painting and Bath's Robert Park for his mixed-media wall sculpture, "Eye Map 4-d Me."
In an exhibit of superior art, Mazzei has unerringly chosen the best of this show. Joan Painter Jones has long been one of our vicinity's most challenging artists as well as a restless innovator who's consistently challenged herself.
Jones' assemblage is especially demanding, as this form of art is easily one of the most misunderstood and least appreciated of neo-Dada's clever inventions. Crafting discarded objects and found materials until she's created order out of chaos, Jones makes art the old fashioned way: She earns it.
Assemblage has become an art form of choice in post-modernism. There's a tendency on the part of many of its practitioners to randomly toss together dissimilar elements on the presumption that it's the audience's job to figure out how they conceptually fit together.
Mazzei's interest in outsider art—of which, of course, assemblage fits comfortably—makes her selection of Jones' work that much more significant, because an expert of her caliber isn't going to gloss over such an arbitrary strategy. Part of the function of being a juror is to find that subliminal element that the rest of us generally miss. As such, Mazzei knows Jones' art satisfies a secondary artistic quality that's more intellectually rigorous than the mere melding of dissimilar materials; it's playful yet precise.
In "Changing Chair," Jones' clever fusing of found elements to create a unified whole sets the work apart from the routine. There's a remarkable interpretation of the age-old conundrum of stasis and motion that the chair illustrates. Jones crafts a metaphysical equilibrium.
"Changing Chair" is like all change: Omnipresent in the present as a vestige of the past. What Jones supplies the future and it's in this artless expression that challenges us as much as she challenges her materials. It's also a cleverness that's more than enough to merit a well-earned Ann Arbor Art Center "Annual" First Prize.
"The Annual: All Media Exhibition" will continue through Oct. 2 at the Ann Arbor Art Center, 117 W. Liberty St. Gallery hours are 10 a.m.-6 p.m. Monday-Saturday; and noon-5:30 p.m. Sunday. For information, call 734-994-8004.