Posted on
Fri, Feb 8, 2013 : 6:07 a.m.
Ann Arbor Art Center showcasing 3 artists' 'Memory, Time and Private Spaces'
By John Carlos Cantu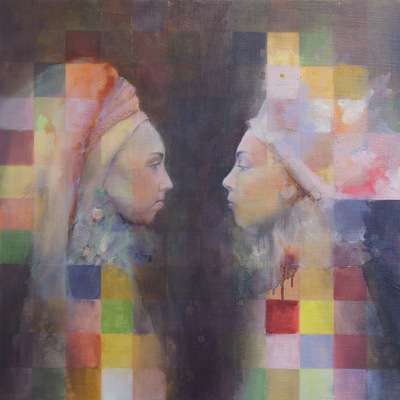 Echoes of the past are on display in the Ann Arbor Art Center's mysterious "Memory, Time, and Private Spaces."
Featuring the art of three local artists — Carolyn Reed Barritt, Cathy Jacobs, and Christine Bruxvoort — the exhibit features paintings, drawings, and video installations that (according to the Art Center's gallery statement) draw on their "observations, memories, and dreams" reflecting "each artist's desire to invite viewers into an intimate world."
And what rich worlds they are.
The artists are so dissimilar from each other, yet there's a common wistful psychological warmth that pervades each artwork. It's as though each artist is having a private conversation with each viewer.
Ann Arbor Art Center Director of Programs, Lauren Fretz astutely observes, "All three artists are interested in exploring the past, and often times it's a very personal past.
She also rightly adds, "They did a great job putting their work together in a coherent narrative, even though individually the works are so radically different from each other."
Ann Arbor's Carolyn Reed Barritt has contributed a dozen drawings in the exhibit whose precision is not only excellent; it's nearly otherworldly. Her delimited palette — black paint over graphite or watercolor and drybrush — only makes her keenly realized portraits that much more vivid.
2011's black and white charcoal "Paper Hat" illustrates Barritt's uncanny ability to depict layer upon layer of psychological complexity. For the model of this drawing is well proportioned, even if her hat itself isn't particularly so — it's a peculiarly oversized headgear with carefully realized folds. In addition, the model herself (like Barritt's other portraits) is skillfully rendered; but her reserve is so carefully observed, the portrait seems to have caught her off guard.
All this is to say that Barritt is a master of understatement. Her most memorable drawings — 2010's pencil on blue paper "The Floral Horse" or 2012's "1948: Surrender" — feature inanimate objects (a cloth horse; string and napkin) whose depiction is as clear as their appearance is vague in plain sight.
By contrast, Ferndale's Cathy Jacobs paints as though her pigments have creativity independent of her hand. Her palettes feature a chromatic brightness whose luminous articulation is at odds with her indistinct imagery. Yet in Jacobs' instance, the art isn't narratively understated; rather, she gives us just enough information for our imagination to work in tandem with her own.
2012's oil on canvas "38 Candles: Self-Portrait as Marie Antoinette" masks Jacob's self-reference as the painting's foreground candles (held by the model) render the model's identity indistinct. Likewise, 2012's oil on canvas "Waiting for Metamorphosis" finds Jacob's model hiding behind a rich, diaphanous overlay of swirling oil pigments.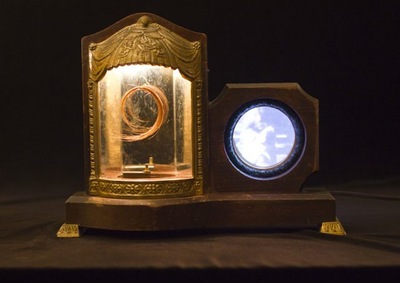 Finally, Christine Bruxvoort of Ypsilanti has contributed a variety of photographs and mixed-media assemblages whose animated oddness supplements the paintings and drawings that surround them. Of her five works on display, Bruxvoort's 2011 "100 Strokes Music Box" is a fully realized, fantastic site-specific installation.
Consisting of a black draped table; two frayed sitting chairs; a mirror, brush, and stand affixed to the gallery wall; and a music box that also houses a video display monitor, "100 Strokes Music Box's" boudoir is precisely what its title says. In particular, a faint musical motif repeats itself while the video monitor shows us a young woman repetitively combing her hair.
The result is haunting; as though the viewer has stumbled upon the secluded chamber of someone who is herself caught in a recurrence whose never-ending task is both pleasurable and time-consuming. At the very least, Bruxvoort's unforgettable "100 Strokes Music Box" is indeed memory, time, and private space played out in real time with real memory — and, most of all, in a private space.
"Memory, Time, and Private Spaces" will continue through Feb. 24 at the Ann Arbor Art Center, 117 W. Liberty St. Gallery hours are 11 a.m.-6 p.m. Monday-Saturday; and noon-5 p.m. Sunday. For information, call 734-994-8004.