Posted on
Wed, May 23, 2012 : 5:05 a.m.
Ann Arbor Art Center presents its 30th exhibition on 'The Print'
By Jennifer Eberbach
For the 30th year, "The Print" exhibition at the Ann Arbor Art Center has showcased the diversity of printmaking techniques used by Michigan artists. As you can see in the show, prints come into being through many different artistic processes, some traditional and others more contemporary or experimental.
The broad scope of the show allows for great diversity in subject matter and style as well. With abstract works, character studies, landscapes, and even a printed Kimono by Beth Steinkelher, the exhibit has a little of everything.
Whether you are interested in learning more about all of the different printmaking techniques out there, or you just want to check out a bunch of local Ann Arbor and Michigan-based artists, "The Print" is an enjoyable annual tradition.
It is a juried show, so somebody always picks favorites. This year Norm Stewart, owner of fine arts prints company Stewart & Stewart and a graduate of the University of Michigan and Cranbrook Academy of Art, selected 3 top works and awarded 8 honorable mentions to artworks serving as examples of well-executed prints that often push the boundaries of what an artist can accomplish with printing techniques.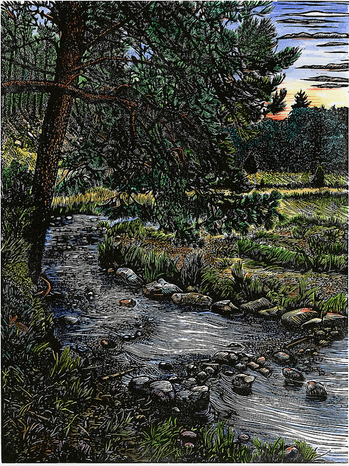 Sylvia Pixley's
wood engraving "Guardian Trees #2" won this year's Janet Gallup Memorial Award for best in show. It depicts one of art's common themes, a landscape with a tree and a creek. The highly intricate lines that create the image show a level of technical skill far less common. The well-executed, beautiful landscape wins $1,000 for first place.
A number of the artists have had a long relationship with the Art Center, including Pixley. She took her first wood engraving class there in 1994, and she has sold her work in the gallery shop for over 15 years, according to a wall label. Last year's winner and honorable mention this year Bruce Thayer is one of the artists who has participated in the exhibition since its inception in 1982.
Stephen Magsig's depiction of the Fisher Building in Detroit almost resembles a charcoal drawing. The golden tower that radiates from the top of the Fisher Building emerges from deep shadow in this high-contrast mezzotint (roughed up plate with lighter elements scraped in).
In third place, Katie Rubin's intaglio prints (ink on incised metal plates), "Worrying it's Way Into Consciousness," takes printmaking into abstraction. Printed strips of paper crisscross into a weaving.
One of Stewart's 8 honorable mentions, Lee Ann Frame's intaglio print "Summer in Michigan," was the print I personally found most striking when I walked into the gallery space. The viewer takes the place of a robin overlooking a blue egg-filled nest perched above uniform-looking roofs in a neighborhood. A warm color palette invites you into a peaceful view. I was impressed by how hand-drawn it looked.
Also awarded an honorable mention, Doug Galante's woodblock print "Pieces of the Ensuing Dream" is a large maze-like pattern of mostly yellow and green. Janet Hamrick used the process of sugar lift etching to depict a vine of myrtle in her artwork. Sarah Bromley takes on dark biblical subject matter in her linocut (linoleum is used to create a relief) "Sin of Pride." Jean Boot's monotype (ink or paint transfer technique) "Castle Grounds" is a black and white landscape that captures the essence of the brushstroke quite well. Sophie Grillet experimented with a potato to print her artwork "Spring Fever," simply drawn nude figures, a man and a woman, pose around each other. Rosemary Lee's intaglio diptych "Red Sky" is a study in red showing two otherworldly views of deep red clouds.
Two favorites of mine deserve a mention: Jen Clare Gawaran's "Magsalita Hablar" engages the viewer in a narrative between two figures. One teaches the other a language, as flash cards of the alphabet are strewn across the table. A jumble of almost indecipherable letters hangs in the air between them, abstract and lost in the prints own translation. Upon first impression, it seems like the man is teaching a Spanish speaking woman English. But the artwork invited me to wonder more about who each character really is and what is their relationship to each other. It is readable yet open to some degree of your own interpretation, in my opinion. I felt like there was a deeper story there.
And Nicole Richards created a gorgeous intaglio print, "Wait," which shows a cross section of forest as a wolf waits patiently above a rabbit hole where a rabbit hides out. The long rabbit hole and Richards' lines are simply cool looking.
These and over 40 additional artists explore printmaking in a diverse set of ways in "The Print."
"The Print" will continue through June 10 at the Ann Arbor Art Center, 117 W. Liberty St. Gallery hours are 11 a.m. to 6 p.m., Monday-Saturday; 12 p.m. to 5 p.m. on Sundays. For information, call 734-994-8004.