Posted on
Sat, Aug 31, 2013 : 5:40 a.m.
Ann Arbor Art Center featuring professors' works in 'SightSee' exhibit
By John Carlos Cantu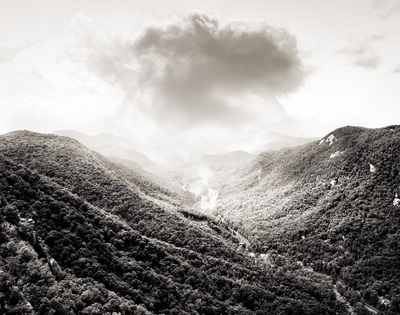 Image courtesy of Ann Arbor Art Center
"SightSee" at the
Ann Arbor Art Center
wants us to consider the landscape genre in decidedly different ways than we're accustomed to seeing.
The exhibit consists of work by Eastern Michigan University art professors Colin Blakely and Amy Sacksteder.
Divided by alternating heroic-sized digital photography and mixed-media paintings or drawings in the Art Center's upstairs gallery, the display is an expansive (if not also quirkily expressive) study of our country's landscape with a lot of interpretation tossed in the mix.
As the exhibit's gallery statement tells us, "Working in and around the landscape genre, both artists create mediated views that simultaneously reference and call into question traditional modes of representing nature."
What this means in practical terms is that Blakely has contributed nine oversized digital photographs whose "grand vistas" alter "in subtle yet pervasive ways" panoramic images "that disrupt the common relationships established in depictions of land."
Sacksteder, by contrast, has contributed a restless set of eleven paintings and drawings (as well as an expansive gallery installation) that engages "the notions of transience and significance" through "maps, diagrams, souvenirs, and artifacts" exploring the connection to our country "via objects to specific places and events."
"SightSee" is therefore a heady mix of feisty aesthetics whose abundance of spirit reshapes the notion of our countryside in such a way as to comment on the time-honored notion of the sublime through art that forces us to see the world around us anew.
Sacksteder's half of the proceedings are measured in such a way as to reinterpret commonplace representations of the environment. As such, her "landscapes" work in differing scales with differing iconographies. Their only commonality is her willingness to work abstractly rather than try to conform to a conventional set of symbols.
"I'm attempting," says Sacksteder in her artist's statement, "to reconcile vitality and mortality (and their accompanying celebrations and mourning). I'm interested in records and relics of past events, of lived histories, of significant sites.
"Drawing from maps, artifacts, biographies, the landscape, and natural imagery," she continues, "I chart my connection to those who have gone before and to resonant places and occurrences. Using this visual language, my work extends from the histories of observational and landscape painting and natural science illustration, as I re-invent the mapping and charting process to best relay my empathy and experiences."
"Tahoe," Sacksteder's 22-by-30-inch gouache and ink on paper with silver leaf cut out, is an admirable example of her work at its most intimate and hermetic. This handsome painting/drawing doesn't give us a representational view of this famed Sierra Nevada Lake. Rather, the artwork's jagged paper bottom border gives us an inferred sense of the mountainous terrain surrounding the lake. And the mottled cloud on the work's left side is superlatively matched against a band of colorful diagonal stripes whose explosive aggregated splotches surge from a solitary vertical stem.
What are we to make of this accomplished painting and drawing? It's hard to say since the seemingly arbitrary placement of Sacksteder's visual elements allows for open-ended interpretation. Like her monumentally scaled "Object of…." mixed-media installation that stretches across the expanse of the Art Center's east gallery wall: Free-associate as you like.
"Object of…." finds Sacksteder setting small mounds of stone cairns across the length of the gallery with a number of varied wall-mounted drawings, paintings, and manipulated photographs in differing styles of representation and abstraction set around three paintings ("Net 4," "Tahoe," and "Pyramid"). This landscape by other means is indeed the sum total of the installation; giving us varying perspectives to suit our study.
Colin Blakely's oversized digitally manipulated "Constructed/Disruptive Views" photography, on the other hand, seems resolutely conventional in contrast to Sacksteder's paintings and drawings — well, conventional until they're studied a bit more closely.
First, a word about scale: Blakely's digitally manipulated photographs emulate an oversized scale analogous to that of 19th century American landscape genre painters. It's therefore not accidental that he specifically references Albert Bierstadt and Frederic Edwin Church in the titles of two of his artworks. Couple these homages with our country's reverence for our environment and Blakely's hit a nerve that thoroughly resonates with our culture.
Lauren Fretz, co-director of Art Center Programs perceptively adds of Blakely's art, "in every photograph there's some tension between unadulterated nature and human impact (there's even a parallel between his use of 'interfering' digital manipulation and the traditional medium)."
And as Blakely says in his artist's statement of his "Constructed/Disruptive Views" series: "The series centers on depictions and interpretations of the landscape. Distinct from the notion of land, untrodden by human feet yet completely ravaged, the landscape exists only as an embodiment of our collective cultural imagination.
"The 'View' is never a neutral entity. These images strive to subtly disrupt established depictions of nature and in so doing begin to reveal the constructs that lie beneath."
For example: Blakely's 30-by-36-inch black and white "Convergence Disruption I and II," disrupt his landscape composition through a frequency wave that manipulates the very surroundings illustrated. And the 33-by-22.5-inch "Figure/Ground Compression IV (Chimney Rock)" subtly alters the photograph's monochromatic palette to enhance the landscape's dramatic appearance.
Courtesy of Ann Arbor Art Center
Blakely's masterwork in this exhibit is "Yosemite (after Church)" whose 42-by-52.5-inch color digital photography depicts the park's famed Tunnel View looking towards Yosemite Valley, El Capitan, Bridalveil Fall, and Half Dome. But in keeping with Church's spiritual impulse, Blakely manipulates his image to create a series of interior receding visual planes that draw us into the heart of the composition until Half Dome almost disappears from our sight.
As Blakely's masterly "Yosemite (after Church)" shows us: It's not nearly enough to merely have sight. We must also quite carefully see if we're going to participate in the imaginative element of American landscape art.
"SightSee: Colin Blakely and Amy Sacksteder" will continue through Sept. 15 at the Ann Arbor Art Center, 117 W. Liberty St. Gallery hours are 10 a.m.-6 p.m. Monday-Thursday and Saturday; 10 a.m.-8 p.m. Friday; and noon-5 p.m. Sunday. For information, call (734) 994-8004.