Posted on
Wed, Mar 20, 2013 : 10:16 a.m.
Ann Arbor Art Center's 30 x 30 Art Sale to benefit kids' art programs
By Ann Dwyer
It's ambitious, it's artistic and it's altruistic. It's the Ann Arbor Art Center's 30 x 30 Benefit Art Sale. The proceeds will benefit the Ann Arbor Art Center's Art for Kids Campaign, which raises money for scholarships and helps support the expansion of their youth art programs.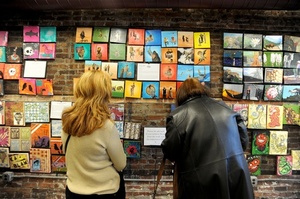 Thirty artists are challenged to create 30 pieces of art each. The pieces are sold at the benefit for $40 each. The works will include paintings, photographs, mixed media, ceramics and jewelry.
While you can preview some of the work on Facebook, part of the fun in attending the event is the mystery of what will be found there.
Saturday, March 23, 2013. Noon-5 p.m. If not all artwork is sold, they will re-open the sale the next day at noon. $40 per piece of artwork. The Ann Arbor Art Center is located at 117 W. Liberty St., Ann Arbor. 734-994-8004 x101.