Posted on
Wed, Jul 20, 2011 : 5:45 a.m.
Ann Arbor Art Fair seeing positive signs, weather worries as event starts annual 4-day run
By Jennifer Eberbach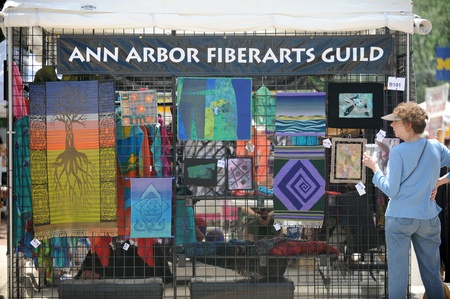 Angela J. Cesere | AnnArbor.com
Will the weather affect your decision to attend? Take our poll or leave a comment at the end of this post.
Ann Arbor Art Fair artists are ready for the big event, which starts today and runs through Saturday, July 23. 1,100 of them have filled booths with their artworks. Many speaking during setup day Tuesday were optimistic that the fair will bring them plenty of buyers and enjoyable experiences, and they are trying not to get fazed by the weather forecast—it is going to be a hot one. (Related story: Excessive heat warning issued; 8 ways to beat the heat)
This year's Art Fair—which annually draws an estimated half-million visitors—has brought back many artists who have exhibited numerous times before. So many artists returning over the years is a sign that sales in Ann Arbor generally go well and participating is worth it financially, according to State Street Area Art Fair Director Kathy Krick.
"Last year, we had the highest return rate of people who we re-invite. Almost 99 percent wanted back in, which I think is a good gauge for the economy. When you invite people back, they don't all come. They might go do other shows or do a different circuit the following years. So many coming back means they did at least OK. My expectation for this year's fair is that we will be able to accommodate everyone and that more than 1,000 artists can all make some money," she said.
Debra "Max" Clayton, who directs the Summer Art Fair (run by The Guild of Artists & Artisans, and one of four separate fairs that make up the event) is "noticing an increase in membership to the Guild right now. The membership has increased, I would say, about 15 percent in the last two years. That was after membership held steady for a couple of years," she said.
"We're not just one of the oldest fairs in the country for no reason. We are still around because people want to come back. Artists struggle sometimes, and they look for fairs that are going to help them survive financially. I think they look to the Ann Arbor Art Fair for that reason."
Despite the economic recession in Michigan, Krick said "the Ann Arbor Art Fair is a good gauge that the economy is returning," Krick says.
More on the fair
Additional Ann Arbor Art Fair stories:
Terry Ferguson
, an Iowa artist selling his stone carvings at the Summer Art Fair near the corner of Main and Huron streets, has not noticed much of a recession when it comes to sales. "The last four years at the Ann Arbor Art Fair, sales have been good. You couldn't tell there was a recession. I cater to people with affluent needs, and while the recession might have hurt a little bit, my wife Anne (a jewelry maker) and I aren't suffering from it. When people see something they like, they get it," he said.
Laura Lee Junge's oil paintings will be for sale at the South University Art Fair on South University near East University. She said, "If I didn't do well enough, I wouldn't come back. Sales have been very consistent. It seems like every year I do about the same. You also meet a lot of people who buy things throughout the year as well. You can look at it as good advertising."
Mike and Karen Baum, a couple from Lebanon, Ohio, will be selling their "high-fired decorative and functional stoneware" at the Summer Art Fair on Main between Washington and Huron. They have been showing at the Ann Arbor Art Fair since 1991, and "won't miss a show," Mike said. Out of the 17 or so shows they do across the East Coast and South each year, "Ann Arbor is definitely number 1 or 2." The Baums say sales were declining for a while, since around 2000-2002. But last year, "our sales went up by 20 percent. We figure it's going to do the same again this year, unless the heat stops people," he said with a laugh.
New Jersey-based mixed-media sculptor William Skrips, who began selling his "funky" found object art at the Street Art Fair, the Original for the first time last year, returns to Ingalls Mall this year. The Art Fair brought him "moderate sales," and he enjoys the people who attend. "I thought it was a nice, intelligent audience," he said.
With a weather forecast of four days in the 90s, some wonder whether the heat will be a deterrent.
Kelly Hewitt of New Lothrop, who makes and sells dolls with her mother Marlene Denn, is "afraid it's going to be dangerously hot this year," she said while setting up her booth at the Summer Art Fair on Main between Washington and Liberty. "Because of the heat, I really don't have many expectations for this year. I just think it's too hot for people to get out, and when they do they are going to be like zombies walking through here—and they're not going to want to stop and buy things. I hope I'm wrong, of course." Despite her concern about the heat, the Ann Arbor Art Fair is still "definitely the best one I do every year," she said.
Anne Flora, who is part of the Ann Arbor Fiberarts Guild's booth at the State Street Area Art Fair on State near the corner of the Diag, is "optimistic" about the weather.
"We are always concerned about the heat because we aren't sure if people will want to try on or buy clothing on a hot day. But generally, those people who have been selling here for years and years have a following and their customers look for them. When I sell my felt hats, I don't find the heat to really be a problem, because people know me and they know it's a chance to get my hats," she said.
Ferguson is not fazed by the heat. "Lots of people complain about the heat, but I'm not one of them. I like hot weather!" he said. He even thinks the heat might help with sales: "In my experience, people tend to buy a lot in hot weather. They don't spend a lot of time looking around in the booth and they ain't coming back. They are in and out, and if they see something they like they grab it."
The Ann Arbor Art Fair runs 10 a.m. to 9 p.m. on Wednesday, Thursday and Friday; and 10 a.m. to 6 p.m. on Saturday. Visit its website for more complete event details, and watch AnnArbor.com for full coverage.