Posted on
Sun, Jul 17, 2011 : 5:55 a.m.
Ann Arbor Art Fair ready to cover the town with creativity
By Jennifer Eberbach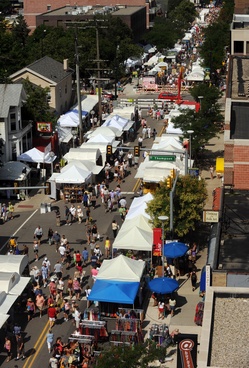 AnnArbor.com file photo
It is that time of summer again for the
Ann Arbor Art Fair
to blanket downtown in art, music, and tons of people.
Booths upon booths of artists selling their work, music and other performances, businesses doing sidewalk sales, and an array of activities for adults and their kids will take over downtown. The enormous 4-day art fair returns for its 52nd time Wednesday through Saturday. Fairgoers from near and far will pack the town from 10 a.m. to 9 p.m. on Wednesday, Thursday and Friday; and 10 a.m. to 6 p.m. on Saturday.
Buying, or at least looking at, art is arguably the biggest reason so many people go. The fair usually draws around an estimated 500,000 people. Four individual fairs collaborate on the massive event to feature artists from all over the world who work in "2D and 3D-mixed media, drawing, painting, photography, printmaking, ceramics, fiber, glass, jewelry and works in metal, stone, and wood," according to the fair's official description of its range.
There are also plenty of things to do for free during the fair. On top of selling art, a number of artists will be presenting free "Art Demos" of how they make their art. People of all ages can make their own art at hands-on "Art Activity Zones" located throughout the fair. Or you can exchange ideas with representatives from non-profits and social causes while standing in the middle of a usually busy Liberty Street.
A full lineup of bands and performances will entertain the crowd on three stages planted at different corners of the fair. A "Main Stage" sponsored by Ann Arbor's 107one will be on Church Street south of South University. The "iSpy Stage" sponsored by Trinity Transportation will be planted on Liberty west of Main Street. "The Fountain Stage" at the Ingalls Mall fountain between Washington and North University will showcase music and dance performances. And Art Fair regular Mr. B, who has performed his boogie-woogie piano at the fair for three decades, will play all day, every day on North University near Ingalls Mall.
New this year, an "Art Demo" tent on North University will provide a place where people can sit (in the shade) and watch a full schedule of artists demonstrating how they create their artworks. There are always artist demonstrations at the fair, but this is the first time a lineup will be located all under one tent. Demonstrations will happen 11 a.m. to 8 p.m. on July 20 through July 22, and 11 a.m. to 5 p.m. on July 23. On top of that, a number of other artists' demonstrations will be sprinkled throughout the fair, including potters from the Yourist Studio Community on South University between Church and Forest, Michigan Silversmiths Guild on East University, and others.
The "New Art, New Artists" tent at The Street Art Fair, The Original is about more than giving up-and-comers a chance to sell their art. The 8 college students from schools in Michigan who were chosen to participate this year receive mentorship from experienced artists. "We pair them with exhibiting Art Fair artists so they have a mentor to work with on things like how to price their work, how to display their work, and how to get your work to the Art Fair. All of that is a mystery to people who don't do it," the fair's director Maureen Riley explains. After the fair, the students get a free membership to the National Association of Independent Artists Emerging Artist Program.
"Really we hope to encourage them that this can be a career for young artists and entrepreneurs," Riley says.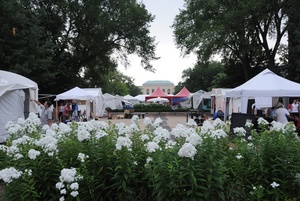 AnnArbor.com file photo
Another development this year is a revised footprint for the Street Art Fair, The Original, one of the four combined fairs. It is now located on North University and East Washington, connected by Ingalls Mall. "I think it's the best footprint we've ever had. Hopefully the new layout won't change," Riley said. (In 2003, this section of the fair moved to Washington, Thayer, and North University. But "it was a footprint that was less than desirable," Riley says. Booths could only be set up on one side of Thayer, leaving a lane for traffic. On top of that, the East Washington part of the fair had to be relocated during construction of the University of Michigan's North Quad. )
Local artist Julie Fremuth, whose work dons this year's poster, has a booth in the Ingalls Mall footprint near Burton Tower this year. The poster depicts pants hanging on clotheslines. The artist, who frequently paints and draws portraits, thinks pants can be considered portraits just as images of someone's face. At a preview of the fair, she explained that the artwork was inspired by a family member's story about seeing a deceased relative who always wore Carhartt pants. "She didn't see him, but what she saw were his pants. I like the whole idea of how human pants, shoes, clothes can bind you in their presence. Emotionally, someone could be present but not physically present," she says.
Many downtown businesses and restaurants get in the spirit of the fair with special deals and sidewalk sales. A survey study the Ann Arbor Art Fair had conducted by Power Marketing in 2008 concluded that the fair had a large economic impact: Hotels made $5 million. Dining establishments made $25.2 million, and $48.7 million went toward shopping during the fair.
There are more ways than ever before to locate your favorite artists and activities, and keep posted on the latest happenings. Stop by an information booth to grab a paper copy of the guidebook and map, or iPhone users can download the Ann Arbor Art Fair app. New this year, Facebook and Twitter will keep visitors posted with real-time updates.
Watch AnnArbor.com for full Art Fair coverage, including a roundup of all the basic facts of fairgoing and a full schedule of live entertainment.