Ann Arbor art teachers share their own art at the U-M Work Gallery
Posted on Wed, May 30, 2012 : 10:11 a.m.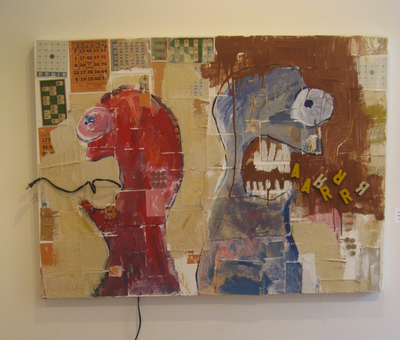 Art teachers from across Ann Arbor's public schools gathered to share recent artwork of their own at the U-M WORK Gallery's opening for the annual Ann Arbor Art Teachers Spring Show, which will display the artistic spirit behind local art education through June 15.

"It's a little like a reunion for us," says Corrine Gignac, a Skyline High School art teacher who has also taught at Eberwhite and Pioneer. As president of the Ann Arbor Art Teacher and Alumni Association, she helped plan the annual show. "It's a great opportunity to see each other and share artwork," between cohorts and with the public, she says.

Like a number of art teachers and retired teachers exhibiting in the show, Gignac contributed an example of an art project she does with her students. Her two still-life drawings both play with the depth of the picture plane. "For the assignment, the class worked from a still-life set up in the middle of the room," she explains. When she sensed that the task was getting a bit tiresome for students and heads began to bob, she gave them a new challenge and a 3-day deadline.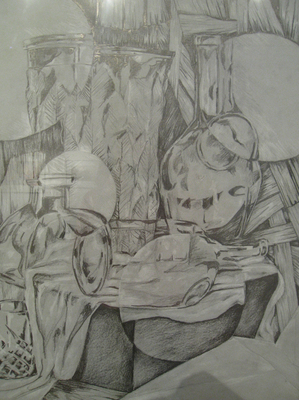 High school teacher Corrine Gignac contributed two still lives to the exhibition.

"I said, whatever forms you have right now, I want you to take them and depart from reality. Integrate a surrealist flare or take forms and do something else with them. Do something that is different from what you see in a conventional sense," Gignac says.

Husband and wife team Amanda and Joel Wyse have more in common than teaching at elementary schools (Amanda is at Thurston and Joel at Northside). They create art together, too. Their two large found-object and mixed-media paintings recall the look and feel of mid 20th-century artists like Jasper Johns or Robert Rauschenberg, but the fun and funky contemporary artworks have a flavor of their own. "We usually have two canvases going at the same time. When we get to a stopping point in our work, we'll switch. I work on his and he works on mine." she explains, agreeing that their shared artistic process is a lot like early 20th century surrealists collaborating on an 'Exquisite Corpse' (they would take turns adding elements). The couple use boxes full of random items they have collected and paint to make their own versions.

"With my kids, I do a bit of everything and teach them about art history. Once in a while, I can sneak in my own interests," Amanda Wyse says with a laugh. "I think a lot of kids try to draw from realism, which is fine. But young kids can't do it totally realistically yet, so they are just going to get frustrated if they think that's the only art that's out there." Teaching kids to think abstractly at an early age "is liberating and really positive," she says.

The word around the gallery was that Laura Lynch, who teaches at Forsythe Middle School, spent decades working on her felt and thread interpretation of Pieter Bruegel the Elder's "The Harvesters," a very famous artwork hanging in the Met. The intricately sewn details are quite captivating. I found myself spending time with it. Her artist statement for the work explains how she gave the well known subject matter a "multicultural twist" and added in some of her personal enjoyments (a swimming pool, for instance) to make her own statement on the "peasant" class. According the her artist statement, she was also inspired by Chinese propaganda art, which is quite believable upon contemplating the artwork's overtly optimistic tone.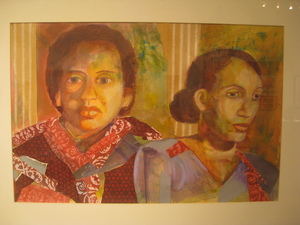 Claudia Burns, an art teacher at Ann Arbor Tech High School and arts advocate enjoys attending workshops when she is not teaching. Her two paintings in the show, both portraiture of women, where both created at workshops. They play around with bright colors in an impressionistic way that is quite striking. "I'm trying to work a little bit with adding alternative media," to her watercolor and pastel work, she says. In the portrait of the two women, for example, she experimented by making parts of the clothes and background from paper.

Retired teacher Phyllis Swonk spent 34 years at Scarlett Middle School and a few before that at Forsythe Middle School. A few years before she retired, Scarlett got some digital cameras. "I would take the students out to the botanical gardens on a field trip every year," Swonk says. Her three photographs in the exhibit surely show her love of "the nature world and reflection, among other things," as she says. She took two of them during a visit to the Bellingrath Estate (now a museum, formerly a home of historical franchiser of Mobile Coca-Cola Bottling Company fame Walter Bellingrath). "I do a lot of photography when I travel. We spend winters in Florida, and my husband really wanted to see Alabama," says the retiree. And her other artwork captures a piece of her friend's garden in Maine.

Art teachers featured in the show include Dianne Austin, Linda Babich, Diane Breitenwischer Grady, Claudia Burns, Steven Coron, Terri Erickson, Rocky Gonet, Elaine Headly, Kristen Hermanson, Kate Higgins, Jay Howe, Kristen Kubacki, Peggy Leonard, Juliet Lotts, Laura Lynch, Susan Remington, Ginny Russell, Jim Schulz, Jonathon Smigell, Phyllis Swonk, Laura Wayne, Sarah Winter, Robin Witt, and Amanda and Joel Wyse.

There are all kinds of stories behind the 40 artworks in the show, which were created by 25 Ann Arbor art teachers. From glimpses of what they teach students to looks at what they like to make outside of school, the annual show traces the creativity behind our public art education.

Work is located at 306 S. State St. For more information, see the website.