Posted on
Thu, Oct 4, 2012 : 11:17 a.m.
Ann Arbor area artists describe excitement of being part of ArtPrize 2012
By Jennifer Eberbach
Spread across many different venues at ArtPrize, Grand Rapids' enormous annual art competition, you can find a few dozen artworks by local Ann Arbor and Washtenaw County artists. Before the event ends this Sunday, a few Ann Arbor artists shared their insights with AnnArbor.com on their artworks and what it is like to be apart of ArtPrize.
Voted into the "Top 100" by the public this year, Anne Gates' embroidered chicken eggshell sculpture, Motivation, is as fragile as it is beautiful. The Ann Arbor native, who attended Saline schools, started working with egg shells as an art student at the Savannah College of Art and Design. After she graduated, she returned to Ann Arbor and spent all summer perfecting her process of delicately threading fragile eggshells.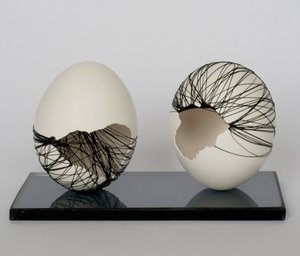 The young, emerging artist uses eggshells and thread in a symbolic way. In the case of
Motivation
, "it is a symbol for the conception of an idea and how fragile that is," she says.
Gates has been at the Grand Rapids Art Museum every single day to talk to visitors and other artists about her work. "It's been really exciting to be there because over 100,000 people have been through the museum already," she says.
"The best part is hanging out with other artists. I've made great friendships quickly, like at summer camp!" Gates laughs. Swapping stories with other artists has been one of the biggest highlights of being in ArtPrize.
Last year's winner of the juried award for an "Urban Space", Catie Newell, contributed an artwork she made in collaboration with fellow UM Architecture faculty member Wes McGee.
Their artwork,
Specimen
, is the large illuminated glass sculpture hanging from the ceiling of
SITE:LAB @ 54 Jefferson.
The artwork is a product of their ongoing collaborative "research" into experimental architecture.
To experiment with glass, they custom-made a firing kiln with a reconfigurable bed of 99 adjustable pins that move up and down. Using the forces of gravity and varying temperatures, McGee and Newell were able "to control the geometry of every unique piece of the artwork, how it droops, which is a pretty unusual thing to do with glass," McGee explains.
McGee, Director of the FABLab at the University of Michigan Taubman College of Architecture and Urban Planning, is the "machinist" in the pair, "focused on integrating fabrication technologies into architectural design and working with materials in experimental ways," he says.
Newell's focus is to "mess around with materials in experimental ways," she says. "I like to make familiar materials unfamiliar, enough that they really draw attention and create an atmosphere that requires a relationship between the individual and the space they are in," she explains.
Thinking about her experience at ArtPrize, Newell is impressed by how cohesive the show at SITE:LAB @ 54 Jefferson is. All of the works on display at the venue are meant to be site specific, on par with the venue's curatorial guidelines for the show.
"The building used to be the old Public Museum. Our piece hangs in the nature room of specimens of insects and plants. We named the piece Specimen because in the past, people have looked at similar pieces we've made and said they look like insects or some kind of creature. We played that up so that the artwork responds to the space it is in," Newell explains.
Ann Arbor artist Phillip Dewey's mixed media artwork, Through Henry's Eyes, is one of a series of artworks he has made about baseball players who played in the Negro Leagues.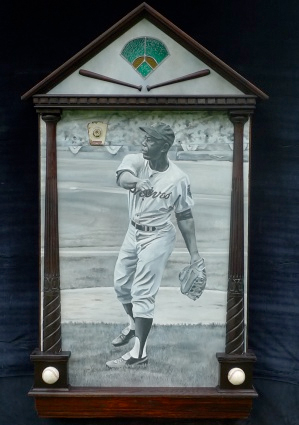 The artwork centers on a photograph of Henry Louis "Hank" Aaron warming up for the 1969 All-Star Game. "He is in a state of contemplative repose," Dewey says, "his gaze is on a peephole." When viewers of the artwork look through the peephole, historical photographs of events that happened during Aaron's career in the 1950's - 1970's come into view.
The photos inside chronicle major events having to do with "civil rights and minority education," Dewey explains. Along with these historical photos, a picture of Aaron rounding 3rd after breaking Babe Ruth's home run record places the baseball legion in American history.
Long interested in black American history, Dewey was deeply inspired by his time teaching art in the New York City public school system to mostly minority students. "In a lot of ways, these issues didn't change all that much during the course of Aaron's career. And I think the artwork also comments that there is still an elephant in the living room that we don't talk about enough," Dewey says.
Although Dewey has thoroughly enjoyed being included in the ArtPrize exhibition at the Women's City Club, he also has a few criticisms of how ArtPrize works as a whole. Although he far from bashes the event, he sees some kinks that might need to be worked out.
"I've talked to a lot of artists and curators about how ArtPrize needs to stretch out the prize money out and go deeper into the pool of contestants. The vast majority of artists go away with nothing, but they have to spent money to travel there or get their artworks there. They aren't awarding very deep," Dewey says.
He also sees an unfair advantage favoring artwork in the largest venues, like museums, which tend to draw the biggest crowds: "It's not truly egalitarian because there is a pecking order among the different locations."
Katie Halton did not enter ArtPrize with the goal of winning a prize. Rather she enjoys "going through the process and seeing what it's like to be a part of it for the first time," she says. The experience is giving her ideas for the future.
Her acrylic and marker on canvas painting, which is hanging at the
Federal Square Building - The SPOT
, explores how the animal world exists within a man-made world. The painting,
Nighttime Playground with Skunks
, depicts a family of skunks walking through a playground after all of the human children have gone to bed.
"The main thread that runs through my current work is thinking about the absurdity of animals and humans having to share the same space when we live in such different ways," Halton explains.
Before going to art school, Halton took zoology and biology classes. Now with her art, she likes to ask, "what is happening in the human world when humans aren't around?"
Halton's style borders on abstraction, while still being readable. She says she has always been inspired by impressionist and expressionist painters, as well as graffiti and stencil art. Instead of painting realistically, she most likes art that is "stylized and interpretive," she says.
If she enters ArtPrize again in the future, she will consider making a larger artwork. "I feel like, to be a contender at ArtPrize, you have to go big and do something that has some magnificence to it," Halton says.