Posted on
Sat, Apr 28, 2012 : 5:59 a.m.
Locally filmed 'The Five-Year Engagement' gets laughs from Ann Arbor on opening night
By Jennifer Eberbach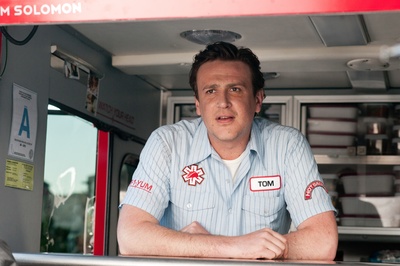 Universal Pictures
What did you think of the movie? Leave a comment and / or vote in the poll at the end of this post.
A large crowd of moviegoers found out how Ann Arbor was depicted in new romantic comedy "The Five-Year Engagement," starring Jason Segel and Emily Blunt. Audience members generally gave favorable opinions to AnnArbor.com after an opening night showing Friday at Rave Motion Pictures, despite mixed reviews from the national media.
Most of the film was shot on location in Ann Arbor, and surrounding places like Ypsilanti, last summer. Local anticipation has built up. This is not only because a lot of the locations are highly recognizable to a local eye, but Ann Arbor and the University of Michigan play a big role in the actual plot.
It only took Friday night audience members Jeff and Anne Newman "a little over a year" to make it down the aisle—much faster than the fictitious fiancees in the romantic comedy.
"I found I could really connect to the movie because it was in Ann Arbor. Seeing so many spaces we've spent time in was really cool. We'll probably own a copy when it comes out. We are actually leaving town, so we want to have it to show people all the places. Like, oh, this is the sandwich shop. (Zingerman's) is such a staple here," says Anne, who was born here and has been a student at the University of Michigan for eight years. Zingerman's is a big star in the movie, as Segel's character gets a job slinging sandwich's at the famous deli.
Her husband Jeff was at work across the street when the film crew was shooting. "I recognized a lot of stuff. The crowd tonight was all very excited to see all of the scenes showing pieces of Ann Arbor—like the applause near the beginning when (Blunt and Segel) first come to town. I work at a nursing home in Ypsi, and right across the street there was a historical house they were filming at one day. I looked down for a minute! But I think it was the scene where (Blunt) and (Alison Brie, who plays Blunt's sister) were doing the funny Elmo and Cookie Monster voices," he says.
Family matriarch Ione Nowak laughed about taking her family to an R-rated movie "for our first real family outing," but she did not mind the level of adult humor.
"We got to see them film the funeral scenes, so we were excited to see them. We spent a day out at our church, Salem Walker Church in Salem, and watched them film. It was a beautiful, sunny day in the low 70s, but we watched them bring in a 2,000 gallon water tank, and they had sprinklers set up on tripods 20 feet up in the air to make it rain," Annunciata Porterfield says of being in on a secret behind Hollywood's magic.
Anna Bennett was pleased by how many places she recognized. "It really showed Ann Arbor. There was no doubt. The downtown area, we truly recognized. I even recognize the alley way (near the Alley Bar on Liberty)!" she laughs.
Jen Danczak really laughed at the flick, although she expected to see more of Ann Arbor. "But I feel like they showed more of the University of Michigan, so that's good." She is a fan of Judd Apatow movies. "It's going to be funny because it's him. It was really good for one of those, that's for sure," she says.
Husband and wife Ted and Vicky Wickering made it a date night. "It was entertaining. There were some very funny moments. For the most part it was a good giggle," Ted says.
Vicky thought "it was comforting to see Ann Arbor. It made it more familiar. I also loved the crazy sweaters (that Chris Parnell's character knits himself). They were so ugly they were good!" she laughs.
There was a lot of laughter throughout the entire film, with only a few stretches that lulled. Overall, this particular audience seemed engaged in Engagement.
Check out previous AnnArbor.com coverage of "The Five Year Engagement" here.