Posted on
Tue, Jun 18, 2013 : 10:04 a.m.
Ann Arbor Book Festival offers book crawls, writer's conference and more
By Jenn McKee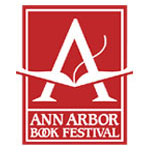 Whether your passion is writing or reading (or both), the 2013
Ann Arbor Book Festival
is likely to have something of interest to you.
This year, AABF will feature a pre-festival workshop for cartoonists, educators and librarians to discuss the growing role comics and graphic novels play in library collections and the classroom; Moonlight Book Crawls, made up of evening readings at local bookstores (Nicola's Books and Literati) and restaurants (Quarter Bistro, Sava's, Bill's Beer Garden, and soon-to-be-opened Aventura); a keynote address by National Book Award finalist Patricia Smith and her husband, Edgar Award winning mystery writer Bruce DeSilva, followed by Leader in Literary Arts (LILA) Award presentations to longtime AABF board chairman Evans Young and Ann Arbor's mystery bookstore Aunt Agatha's; and an all-day writer's conference (with a lunchtime talk by Smith and DeSilva).
"We've moved away from street festival version (of AABF), since the community wasn't really into that," said longtime AABF board member Jeff Kass, who teaches creative writing at Pioneer High and EMU. "What we decided to do, for a second year, is have the Book Fest centered around book crawls, so people can experience … literature in live, communal way in different places around Ann Arbor."
One thing about AABF's schedule that sets it apart from a typical writer's conference is the fact that attendees will have three different opportunities to hear from, or interact with, keynote speakers Smith and DeSilva: the keynote address; the conference lunch; and the conference itself (each will offer a session).
PREVIEW
Ann Arbor Book Festival
What: Annual, 3 day celebration of the written word, which consists of a pre-festival workshop that brings together cartoonists, librarians and educators; Moonlight Book Crawls (featuring readings in different Ann Arbor locations); keynote speakers Patricia Smith and Bruce DeSilva; and an all-day writers' conference.
Where: Various locations around Ann Arbor.
When: June 20-22.
How much: Most events have no admission cost. The writer's conference, happening on Saturday, June 22 from 9:45 a.m. to 3 p.m. at U-M's Hatcher Graduate Library, costs $100 to register, or $25 to just attend the lunch (at which Smith and DeSilva will speak on "The Practice of the Working Writer's Life"). Student scholarships are available. Write to aabookfestival@umich.edu for more information, or visit www.aabookfestival.org.
"It's a great opportunity for people to know these writers better - it humanizes them, and people will get to hear them talk about their craft," said Kass. " … (AABF) is informal but fun. And this is a conference about generating work, so we pick instructors carefully. … We emphasize that they're there not just to talk about writing. People should walk out of a workshop having written something, even if it's just the germ of a new project."
The Book Crawls will feature readings by the 2013 Ann Arbor Youth Poetry Slam Team; Susan Hutton, Keith Taylor and Ellen Stone; Kevin Coval, Shira Erlichman and Brittany Floyd; Red Beard Press (Neutral Zone's new publishing company) writers; jessica Care moore and Kass; and Scott Beal, Alex Pan and Jon Sands.
The comics-oriented event, meanwhile, will coincide with the Ann Arbor District Library's Kids Love Comics program.
"I'm a big fan of (graphic novels)," said Kass. "It can be an exciting reading experience. For people who aren't aware of what's out there right now, it's amazing. These are not Archie comics. This is challenging, provocative work, and it seems like a great, new opportunity for educators to engage students in the classroom, … and connect to more students."
Jenn McKee is an entertainment reporter for AnnArbor.com. Reach her at jennmckee@annarbor.com or 734-623-2546, and follow her on Twitter @jennmckee.