Posted on
Wed, May 2, 2012 : 1:46 p.m.
Ann Arbor Civic Theatre announces 2012-13 season
By AnnArbor.com Staff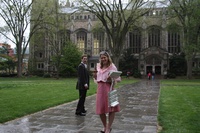 Photo by Tom Steppe
Ann Arbor Civic Theatre
has announced its 2012-13 season lineup.
Season tickets go on sale in June, while individual tickets go on sale in August, at the A2CT office, 322 W. Ann St.; by phone at 734-971-2228; or by visiting www.a2ct.org. Call the A2CT office to receive a season brochure, available in early June.
"We are extremely excited about this upcoming season," said play selection committee chair Amy Bogetto Weinraub in a press release. "There is an excellent mix of classic plays and newer titles, as well as a well-rounded combination of serious and silly. From Cole Porter to Reaganomics, the season reflects some of the best theater of the 20th and 21st Centuries."
A2CT begins its 2012-13 season with the legendary Cole Porter musical "Anything Goes," a toe-tapping, tap-dancing comedy aboard an ocean liner, September 13-16, 2012, at the Lydia Mendelssohn Theatre.
Flash forward 8 decades to the hugely popular new musical comedy "Legally Blonde," November 15-18, also at the Lydia Mendelssohn Theatre. The show is based on the movie of the same name.
A2CT romps into the New Year with the British comedy "Bedroom Farce," January 24-27 at the Arthur Miller. A "bedroom farce" in every sense of the term, this play goes under the covers for cozy, wintertime fun.
Tennessee Williams' Pulitzer Prize-winning drama "Cat on a Hot Tin Roof" receives a revival at the Arthur Miller Theatre March 14-17. Maggie the "Cat" is on the prowl in this incomparable drama of Southern family dysfunction.
The acclaimed play "A Lion in Winter" offers a fictionalized account of the verbally-jousting couple Henry II and his imprisoned wife, Eleanor. Immortalized by Peter O'Toole and Katharine Hepburn in the movie version, this war of wits runs May 9-12 at the Arthur Miller Theatre.
A2CT ends its Main Stage season with the politically intriguing musical "Chess," June 6-9 at the Lydia Mendelssohn Theatre. Updated from the Cold War to the Reagan Era, this love triangle features a Bobby Fischer-like chess player, a Russian chess champion, and the beautiful woman who loves them both.